Man Charged in Cox Death Says Name Is 'Freedom for Britain'
By , , and
Suspect, 52, speaks during first court appearance in London

Campaigning ahead of June 23 EU referendum on hold Saturday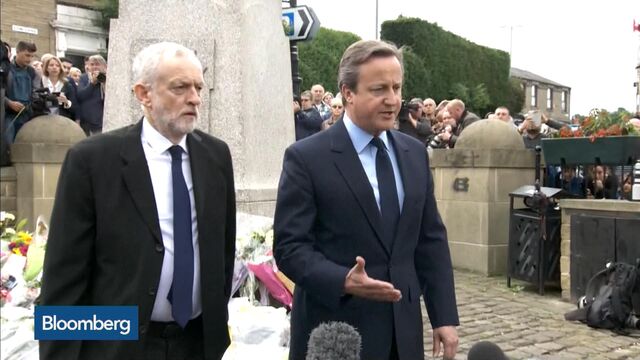 The man charged with murdering British lawmaker Jo Cox declared "death to traitors, freedom for Britain" when asked to give his name during his first court appearance.
Thomas Mair, 52, who lives in Cox's northern England electoral district, was speaking Saturday in a London courtroom, according to the Press Association.

Coming within a week of the June 23 referendum on Britain's membership in the European Union, Cox's killing has the potential to lift support for remaining in the bloc, which had been flagging in the polls. Cox, 41, was a supporter of staying in the EU.
Cox died on June 16 in her West Yorkshire electoral district just before a meeting with constituents.
Mair is charged with murder, grievous bodily harm, possession of a firearm with intent to commit an indictable offence and possession of an offensive weapon. Mair, who was wearing a grey tracksuit and black shoes, didn't give his correct name in court and then remained silent when asked for his address and date of birth, Press Association reported. He didn't enter a plea.
Deputy Chief Magistrate Emma Arbuthnot ordered that he be remanded in custody until his next court appearance on Monday. The defendant's lawyer, Keith Allen, said there was no indication of what plea would be given, the Press Association said. Allen also said legal aid has been sought.
Campaign activities for the EU vote were on hold Saturday. Prime Minister David Cameron is scheduled to appear on Sunday evening on a special edition of BBC Television's "Question Time" show, following morning appearances by his pro-Brexit justice secretary, Michael Gove, and Labour leader Jeremy Corbyn, who backs the "Remain" campaign, on the BBC's "Andrew Marr" program.
The U.K. Parliament will be recalled Monday to pay tribute to Cox.