Treasuries Gain a Third Week as Global Yields Deepen Record Lows
by
Brexit risk, Fed push benchmark U.S yield to four-year low

'Underlying problem' sluggish global growth, BNP Paribas says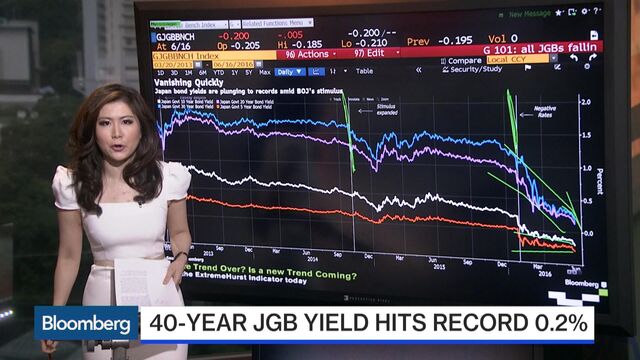 Treasuries headed for a third week of gains as anxiety around a potential British exit from the European Union spurred a global bond rally.
The U.S. 10-year yield dropped to the lowest since August 2012 on Thursday, a week before the U.K. is scheduled to vote on EU membership. Similar-maturity benchmarks in Germany, Japan and Australia also slumped to records. Traders cut bets on a U.S. interest rate increase this year after Federal Reserve officials left policy unchanged Wednesday and Chair Janet Yellen cited Brexit as "one of the uncertainties" that informed the decision.

"Our view is that the Fed will keep its policy rate as it is all this year, and the next as well, meaning further declines in yields," said Tomohisa Fujiki, the chief rate strategist at BNP Paribas SA in Tokyo. "Brexit is one of the risks, but the underlying problem is that global growth is not picking up."
The Treasury 10-year note yield fell as low as 1.52 percent on Thursday before climbing back to 1.60 percent as of 6:12 a.m. in London on Friday, according to Bloomberg Bond Trader data. It has dropped four basis points this week. The price of the 1.625 percent security due in May 2026 was 100 6/32.
Australia, Germany
On Thursday, similar-maturity yields declined to 1.995 percent in Australia, minus 0.038 percent in Germany, and minus 0.21 percent in Japan. The Bloomberg Global Developed Sovereign Bond Index has climbed for four weeks, the longest stretch since October 2013.
Fed officials signaled the pace of rate increases will be slower than previously predicted after their two-day meeting ended Wednesday. Futures show 34 percent odds the central bank will tighten policy this year, down from a probability of 76 percent at the start of the month.
All campaigning for the Brexit referendum was suspended for a second day Friday after the murder of Labour lawmaker Jo Cox. She was in favor of remaining in the EU, fueling bets among some investors that voters in the June 23 referendum will be more likely to choose to stay. Multiple polls had indicated the "Leave" was ahead in recent days.
Before it's here, it's on the Bloomberg Terminal.
LEARN MORE