St. Louis Fed's Bullard Claims the Dot Missing From Fed Estimate
by
Fed's economic projections lacked one long-run rate estimate

Bullard also outs himself as low-dot projection in Fed release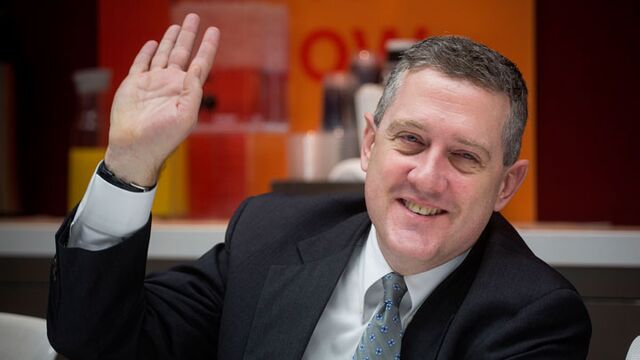 St. Louis Federal Reserve President James Bullard is the missing dot.
When the Fed released its economic projections in Washington on Wednesday, one of the 17 officials sitting around the table didn't put forth an estimate for a long-run interest rate projection, displayed in the Fed's so called "dot plot." In a statement on Friday, Bullard made it clear that it was his -- the St. Louis Fed is switching to a new forecasting style that doesn't incorporate a long-run estimate.
"The forecast simply stops at 2.5 years," Bullard said in the statement. Given his current outlook, Bullard expects trimmed-mean inflation of 2 percent, unemployment of 4.7 percent, and output growth at 2 percent over the 2.5 year horizon. He sees 63 basis points as the appropriate rate policy path over the forecast horizon, indicating that the lone official projecting one increase this year and none for 2017 and 2018 was also him.
The individual projections submitted by each official give traders and economists a hint at how quickly officials expect to raise interest rates and how far they'll ultimately climb.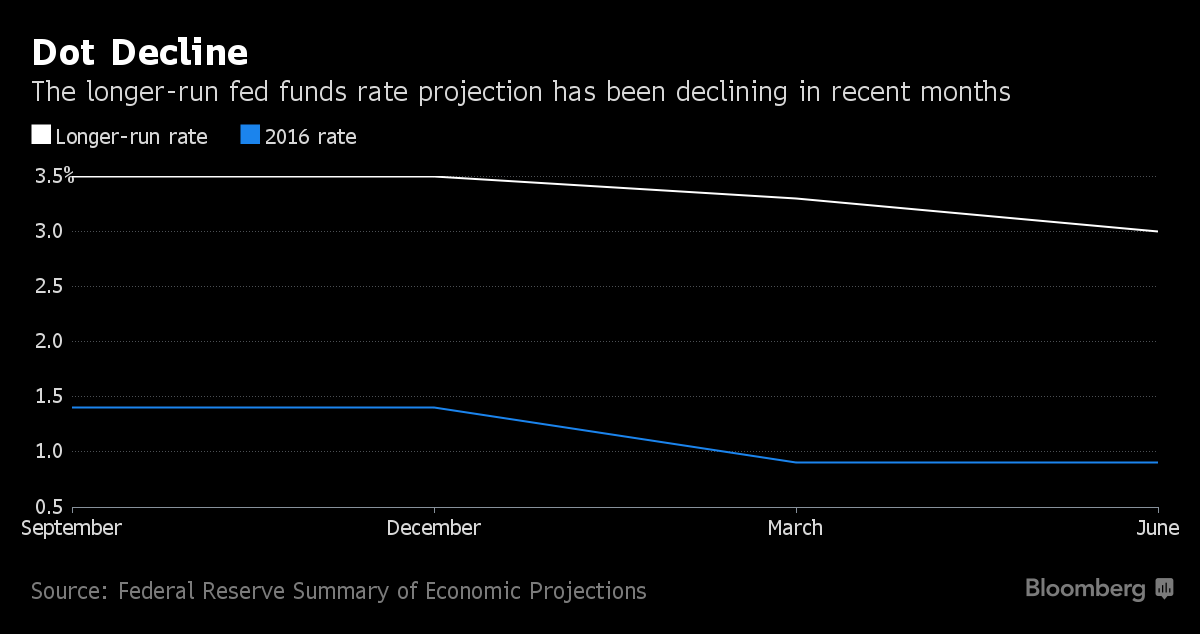 The Fed has consistently revised both its near-term and its longer-run projections downward, and this month the median projection declined to 3 percent from 3.25 percent in March. In a footnote the Fed noted that "one participant did not submit longer-run projections" without saying who it was.
The long-run estimate is the one that officials see policy converging to over time as the committee sets policy consistent with stable inflation and maximum employment. The fact that policy makers have cut their estimate suggests that they have a shorter distance to go in raising rates this hiking cycle.
Bullard, in his statement, said that the usefulness of the model involving long-run forecast may have come to an end "in the last year." He noted that real output growth, unemployment and inflation may be at values that could be sustained over the forecasted horizon, provided there are no shocks, but said the economy does not converge toward a single steady state in the long run -- multiple regimes can evolve, depending on factors like productivity growth.
The new rate projections came as the Fed held their target range for the benchmark rate unchanged at 0.25 percent to 0.5 percent following a weak U.S. May jobs report and amid the threat of financial market volatility arising from an upcoming June 23 vote on Britain's membership of the European Union.
Before it's here, it's on the Bloomberg Terminal.
LEARN MORE