SocGen Warns of Currency Market Disruption on Day of EU Vote
by and
Firm says may not be able to provide usual liquidity

Warns clients of 'potential market dislocation' in note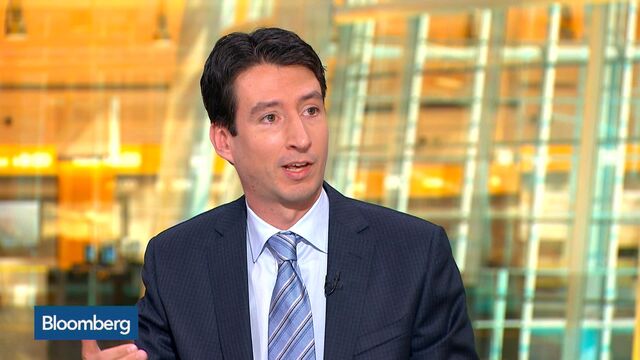 Societe Generale SA has cautioned clients that its ability to provide the usual levels of currency liquidity and pricing could be constrained during the U.K.'s vote on its European Union membership, according to a memo seen by Bloomberg.
With less than a week left to the referendum markets are finding it increasingly difficult to predict the final outcome. Measures of pound volatility have reached record highs, and traders are bracing for erratic currency moves, wider bid-offer spreads and prospects of vanishing liquidity on any shocks. Ila Kotecha, a spokeswoman for SocGen in London, declined to comment on the note.

"We want to underline some possible constraints ahead of potentially disrupted market conditions," SocGen wrote in the client-memo seen by Bloomberg. "We may not be able to provide usual levels of liquidity and pricing in general and on electronic markets in particular. Your orders could be filled materially away from requested levels due to potential market dislocation."
The bank "will endeavour to continue serving its clients as a market maker," the note said. 
Banks are concerned about a repeat of the chaotic currency swings seen last year when the Swiss National Bank's unexpected decision to discard its currency cap, causing the franc to jump as much as 41 percent against the euro. That's prompting traders to look at alternative techniques, like voice trading, while some are being told to facilitate client orders rather than trade on their own books. Retail firms including IG Group Holdings and FXCM Inc. have already raised margin requirements on pound trades in anticipation of heightened volatility.
The pound was at $1.4246 as of 12:01 p.m. in London. The day after next week's referendum, the currency will either sink to the lowest level in more than three decades or climb toward the highest this year, according to a Bloomberg survey of economists. Most see a drop below $1.35 if Britons decide to leave the bloc on June 23, while the median estimate following a victory for the status quo is for it to jump to as high as $1.50.
One-week implied volatility for the pound against the dollar was at 49.5 percent on Friday, the highest on record.
Before it's here, it's on the Bloomberg Terminal.
LEARN MORE