business
Putin Accepts U.S. as Sole Superpower While Grumbling Over NATO
By and
Russian leader has spent years attacking U.S. as global bully

Trump praise is not endorsement of his candidacy, Putin says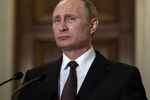 President Vladimir Putin said he accepts the U.S. as the world's only superpower, dialing back years of Kremlin accusations that Russia's former Cold War adversary is seeking to impose its will on weaker nations.
"America is a great power, probably the sole superpower today," Putin said at his annual investor forum in St. Petersburg on Friday. "We accept that."
Russia is facing the most challenging geopolitical and economic environment of Putin's 16-year rule. The collapse in oil prices, sanctions over Putin's policies in Ukraine and war in Syria have strained relations with the U.S. and European leaders, while prolonging Russia's longest recession in two decades.
Putin's efforts at rapprochement with the West didn't extend to the U.S.-led NATO military alliance, which he once again lambasted for continuing to move closer to Russia's borders a quarter century after the Soviet Union's demise. The Russian leader, sharing a stage with Italian Prime Minister Matteo Renzi, also jabbed at the Obama administration for pressuring the EU into a trade war that is costing Europe billions in lost trade while leaving the U.S. unscathed.
Trump, Clinton
"They're not bothered at all about these sanctions because they don't feel any impact at all from our counter-sanctions," Putin said. "In Europe, they feel the impact, but the U.S. doesn't feel any impact. There's no effect. The Americans tell their partners that they need to be patient. Why should they be patient? I don't understand."
While acknowledging that the world needs U.S. power, Putin insisted Russia won't tolerate interference in its internal affairs.
"We don't need them to constantly interfere in our business, showing us how to live," he said.
Still, Putin said he and his Russian colleagues will be happy to work with whoever becomes the next U.S. president.
When asked by moderator Fareed Zakaria of CNN to clarify complimentary remarks he made about U.S. Republican hopeful Donald Trump in December, Putin said they didn't amount to an endorsement of the billionaire over Democratic contender Hillary Clinton.
"I only said that Trump's a colorful person," Putin said. "We will work with any president who wins the trust of the American people."
To that, Renzi said he hopes he'll be able to rightly call the next occupant of the White House "madam president."
— With assistance by Andrey Biryukov, and Henry Meyer
Before it's here, it's on the Bloomberg Terminal.
LEARN MORE