Netflix Says More Japanese Originals on the Way After 'Hibana'
by
Japan drama series drawing global viewers, Japan chief says

Regulatory hurdles still blocking entry to China, Peters says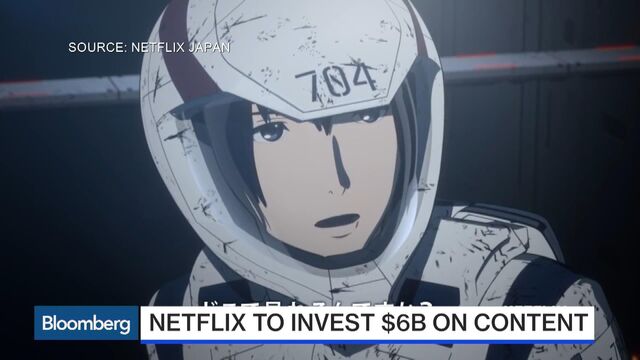 Netflix Inc. intends to produce more original Japanese television shows after the series it introduced earlier this month beat the company's expectations by drawing viewers from Brazil to Germany and the U.S.
The 10-episode "Hibana" production is showing that Japanese content can draw global audiences, Greg Peters, president of Netflix Japan, said in an interview on Friday. The drama is subtitled in 19 languages.

"Half of the viewing of this story is coming outside of Japan," Peters said. "Hibana" is a Japanese story, yet based on universal themes of friendship that are appreciated everywhere, he said.
Netflix has set aside $6 billion this year for buying and producing films and television series as it vies with Amazon.com Inc., Hulu LLC to expand globally, adding more than 130 new markets this year after entering Japan in 2015 as its first in Asia. "Hibana," the story of a 20-something comedian's struggle to become famous, stars Kento Hayashi, 25, winner of a Japan Academy award in 2008.
Peters declined to give any viewership or subscriber figures for "Hibana" or for Netflix Japan, though he did say the success of original content created in Japan shows the benefits the platform holds for Japanese television and film performers.
"We can actually take that story and give them a huge global audience -- much bigger than the historical form of content distribution have been able to give them," said Peters.
Netflix has yet to penetrate one of the largest overseas markets, China, where local video streaming providers such as Baidu Inc.'s Iqiyi, Alibaba Group Holding Ltd.'s Youku Tudou Inc., Le Holdings (Beijing) Co.'s LeTV and Kankan.com are entrenching their brands.
"The only impediment we have in China is the particular regulatory environment that's there," said Peters. "We're eager to launch our service in the market." He declined to comment on whether censorship was an obstacle or to elaborate on the regulatory hurdles the company faces in China or to give any timeframe for starting services in the country.
Before it's here, it's on the Bloomberg Terminal.
LEARN MORE