Labour Party Retains London Mayor's Former Parliament Seat
by
Allin-Khan beats Tories' Dan Watkins with increased majority

Victor pays tribue to murdered Labour parliamentarian Jo Cox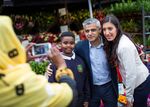 The opposition Labour Party retained the House of Commons seat of Tooting in south London in a special election triggered by Sadiq Khan's victory in the London mayoral contest.
Rosena Allin-Khan, an emergency doctor and local councilor who was born in Tooting, won 55.9 percent of the vote on Thursday. Businessman Dan Watkins, of Prime Minister David Cameron's Conservative Party, came second with 36.1 percent.
The decisive win, while widely predicted, is a boost for Labour leader Jeremy Corbyn, who has been criticized for his low-key campaign to secure a "Remain" vote in next week's referendum on European Union membership and for losing seats in council elections last month.
Allin-Khan chose to forgo a victory speech due to the murder of Labour lawmaker Jo Cox, an advocate of the U.K. staying in the EU. She issued a statement thanking her family, supporters and opponents, as well as the police who provided security for the vote.
"But my thoughts and prayers are with Jo's husband and her children," Allin-Khan said. "She was a proud and passionate campaigner who will be desperately missed. Jo's death reminds us that our democracy is precious but fragile –- we must never forget to cherish it."
Labour has held Tooting since the constituency was created in 1974. Its 19.8 percentage-point majority over the Tories is up from 5.3 points at the general election last year. Sadiq Khan stepped down as a member of Parliament when he was elected London mayor last month.
Before it's here, it's on the Bloomberg Terminal.
LEARN MORE