Iraq Declares Win Over Islamic State in Fallujah, Militants Flee
by , , and
City near Baghdad has been test jihadists' staying power

Humanitarian groups worried about fate of trapped civilians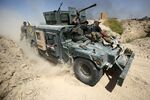 Iraqi Prime Minister Haidar al-Abadi proclaimed victory over Islamic State in Fallujah on Friday after a day of rapid advances that drove militants from the city center, the most significant development in a four-week offensive to retake the city.
Thousands of civilians fled across the Euphrates River as Iraqi forces raised the national flag over the government complex in Fallujah and seized complete control of other key buildings including the hospital.
In an address on state-run Iraqiya television, Abadi said security forces had fulfilled their promise by returning the city "to the homeland," adding that "pockets" of resistance remain.
"They are in control of a portion of the city," U.S. Defense Secretary Ashton Carter told reporters at the Pentagon. "It's too early to say all of the city."

Fallujah's fall to Islamic State in early 2014 marked the start of the group's rise in Iraq. Its ability to keep hold of the city, just 60 kilometers (37 miles) to the west of the capital, Baghdad, has been seen as a major test of Islamic State's staying power. At the same time, the city's recapture is critical for a government trying to reassert territorial sovereignty and launch an offensive on the jihadist group in Mosul, 400 kilometers to the north.
"While the capture of Fallujah would inflict a heavy blow on Islamic State, it is quite early to declare a victory there," said Nihat Ali Ozcan, a strategist at the Economic Policy Research Foundation in Ankara, Turkey. "The battle to retake larger Mosul will be even more difficult, and could prove to be a real challenge."
U.S. Support
The offensive against Fallujah began on May 22, and while much of the fighting in surrounding villages was carried out by Shiite militias with Iranian military advisers, the assault on the city itself fell to Iraqi government forces backed by air support from the U.S. and allies.
As Islamic State's resistance in Fallujah crumbled, its fighters fled, disguised as women, the Iraqi army said on Friday.
The United Nations and humanitarian groups have expressed concern about the fate of civilians trapped inside the city, who have dwindling access to food and clean water. About 43,000 civilians have fled the fighting in Fallujah, while about 50,000 remain trapped, the UN said June 13.
Earlier this week, the Iraqi army said it had secured the first safe route for residents out of the city. Islamic State fighters had prevented residents from leaving, using them as human shields and playing on fears that Shiite militias would carry out revenge attacks on the predominantly Sunni residents.
Before it's here, it's on the Bloomberg Terminal.
LEARN MORE