IMF's Lagarde Says Being in EU Has Made U.K. Economy Richer
by
IMF Managing Director gives speech on referendum in Vienna

Message reiterates previous warning on risks of Brexit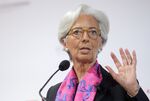 International Monetary Fund Managing Director Christine Lagarde warned the U.K. of the risks of leaving the European Union and said there was a clear economic argument for remaining part of the bloc.
EU membership has brought jobs and income gains to Britain and helped make the country a "dynamic and vibrant economy," Lagarde said in the prepared text for a speech in Vienna on Friday. European integration has lifted trade and investment and raised productivity and incomes, she said.

"We have already been on record that the economic risks of leaving are firmly to the downside," Lagarde said. "There is, in my view, a clear case as to how the U.K. has benefited -- and will continue to benefit -- from its membership in the European Union."
In the U.K., referendum campaigns were suspended for a second day on Friday after the killing of Labour lawmaker Jo Cox, an advocate for "Remain." The IMF delayed by 24 hours the publication of a detailed report on the implications of Brexit.
"As I speak, my thoughts, and I'm sure our thoughts, are with the family members, the friends and those whose life was touched by Jo Cox," Lagarde said.
The IMF chief said she had debated with herself about whether to mention the U.K.'s referendum at all after what happened to the British lawmaker and said she didn't want to take questions on Brexit "out of respect."
Economic Damage
She said most economists had concluded that a "withdrawal of a member" would have negative effects and that was "compelling, even if you discount them for sometimes having the wrong forecasts."
Lagarde's warning reiterates the message contained in an IMF report last month which warned Brexit could lead to a "protracted period of heightened uncertainty," triggering financial-market volatility and hurting economic output. The fund also warned it could erode London's position as a financial center and cause "sharp" falls in house and equity prices.
Acknowledging that refugee and migration issues play an important role in the Brexit debate, Lagarde urged British voters remain open to immigrants and the role they play in the economy and society.
"I have always admired the United Kingdom for it openness to other nationalities and foreign cultures, and I find it hard to believe that attitudes have changed in such a short time," Lagarde said. "Membership in the EU has made the U.K. a richer economy, but it has also made it a more diverse, more exciting, and more creative country. As in all countries, there are people who are struggling in this new environment, but for the majority of citizens, this has been a great success story."
Before it's here, it's on the Bloomberg Terminal.
LEARN MORE