Draghi's Euro-Saving Pledge Runs Into Risk of Populist Backlash
by and
ECB's crisis response bolstering opposition to EU integration

Central bank may find government support lacking as votes loom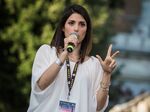 Mario Draghi's homeland is about to give him a taste of whether his mission to save the euro is beyond his control.
Local elections in Italy on June 19 will prefigure votes in Europe over the next 18 months that could see populist politicians translate their increasing support into real power. That may prove as big a threat to the single currency as the financial challenges the European Central Bank president has faced down over the four years since he pledged to do "whatever it takes."
With inflation in the euro area set to gain traction by the end of this year, Draghi can claim that his single-minded focus on price stability by finding ever-more inventive ways to print money is finally starting to pay off. Yet instead of backing him with structural reforms, governments are focused on a row of elections in their largest economies that could set the tone for the future of the European Union, and a British referendum that could splinter it.
"The burden on the ECB to keep the European economy on an even keel will increase as the strength of the populist parties increases the risk that governments do stupid things," said Daniel Gros, director at the Centre for European Policy Studies in Brussels. This includes "spending more on populist things and thus increasing their debt; not investing, which is what Draghi wants them to do; or also passing legislation which reduces labor market flexibility -- especially of course the integration of immigrants."
Five Star
For the next warning bell, look to the city where Draghi was born. After topping the first round of local elections in Rome, the anti-establishment Five Star Movement's Virginia Raggi could become mayor in a run-off on Sunday. That would spell trouble for Prime Minister Matteo Renzi, whose reforms have been praised by the ECB chief. Renzi also faces a referendum this year on constitutional changes that has become a make-or-break vote on his agenda.
Mainstream political leaders elsewhere are feeling the heat. Spain goes to the polls on June 26 for the second time in six months. The Netherlands, France and Germany have elections scheduled for 2017, and all have seen euro-skeptic parties gaining ground. The backlash against integration extends outside the euro area -- the U.K. will hold a plebiscite on June 23 on whether to stay in the EU, with opinion polls showing the vote is too close to call.
Political Message
"The political cycle is delayed with respect to the economic cycle," said Alan Lemangnen, an economist at Natixis in Paris. "The ECB may have to deal with a change of political course just now that its policies are starting to show some results."
After taking interest rates lower than ever before and starting a 1.7 trillion-euro ($1/9 trillion) asset-purchase program, Draghi is now stressing that the ECB can't act alone, and that governments must make structural reforms to boost growth potential. That's a message he's likely to reiterate in coming days, with speeches scheduled in Munich on Friday and to European lawmakers in Brussels on Tuesday.
The risk is that governments feel they can't respond.
"We are moving toward a situation where populism, thanks in part to the migrant crisis, is gaining ground," said Marco Valli, chief euro-area economist at UniCredit SpA in Milan. "Mainstream politicians know that further reforms and European integration risk pushing their countries into the hands of populists."
German Anger
The flare-up of the Greek crisis in 2015 is a cautionary tale. After years of austerity linked to a bailout program, and just as economic growth returned and unemployment started to drop, voters put Alexis Tsipras's anti-austerity Syriza party in power. That sparked a stand-off with European creditors that almost pushed the country out of the single currency.
Even the financially stronger core of the monetary union is far from immune. Some of the loudest anti-ECB cries can be heard in Germany, where savers feel burdened by low interest rates and Finance Minister Wolfgang Schaeuble said Draghi should share the blame for the rise of the Alternative for Germany party. Similar sentiment can be heard in the neighboring Netherlands.
An ECB study this week on the impact of low rates on household income gave some insight. While net savers are hurt, net debtors benefit. That helps explain the anger of Germans planning for retirement. Italians, with relatively little household debt and a fairly large exposure to interest-bearing investments, were among the hardest hit.
Yet with euro-area inflation negative and projected to be below the ECB's goal for at least another two years, Draghi has made clear that officials will continue with their policies.
"They cannot start tinkering around with their policy decisions because of national elections," said Guntram Wolff, of the Brussels-based policy group Bruegel. "It's a very dangerous path to follow."
Before it's here, it's on the Bloomberg Terminal.
LEARN MORE