Debate Blooms at Fed as Policy Makers Wrestle With 'New Normal'
by , , and
Bullard sees lower interest rates, stops projecting long run

Evans favors a new approach as Yellen nods to potential shift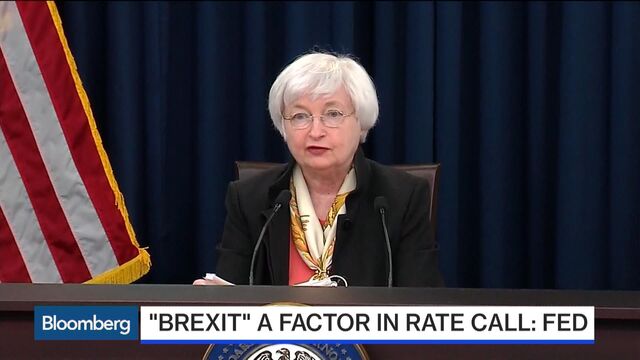 As the Federal Reserve grapples with an economy that isn't behaving as expected, policy makers are having a re-think on the public stage.
Growth has slowed, productivity has slumped and inflation is taking longer than expected to accelerate, prompting Chair Janet Yellen to refer to the "new normal." At the same time, Fed interest-rate hikes projected to be "gradual" are looking glacial, and market rates remain very low. As policy makers have tried to adjust, they've repeatedly cut estimates for the pace of future tightening, with investors consistently calling them out for being too optimistic.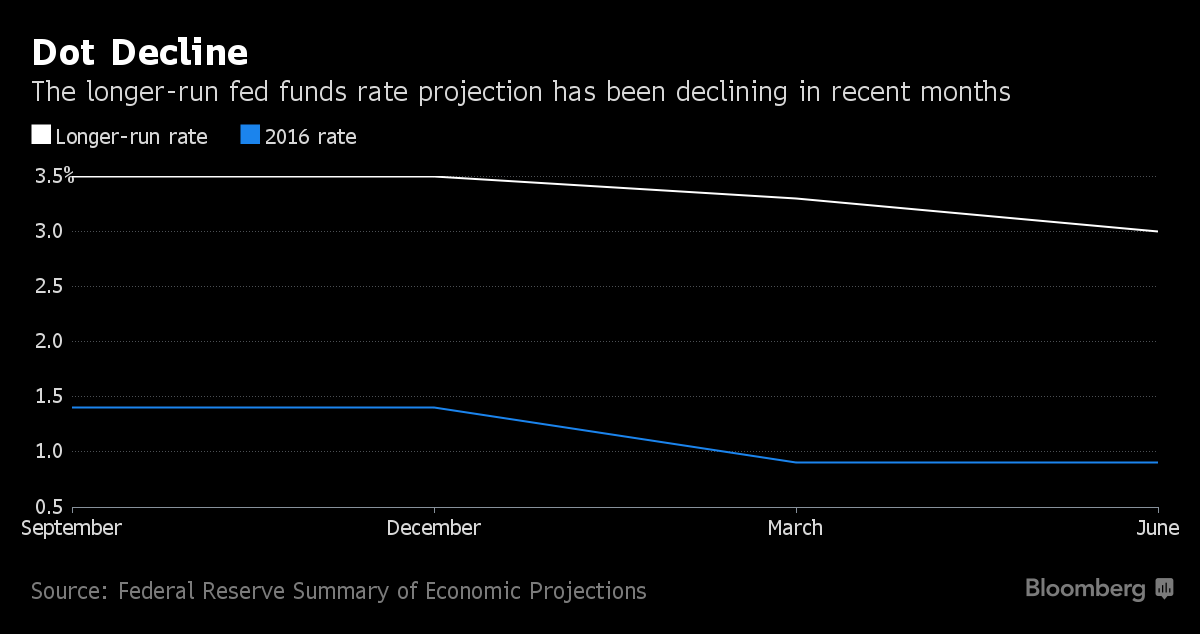 "This mismatch between what we're saying and what we're doing is arguably causing distortions in global market financial pricing, causing unnecessary confusion for future Fed policy and eroding credibility," St. Louis Fed President James Bullard said Friday as he explain a new strategy to talking about the outlook.
'Wonky Friday'
His remarks, on a conference telephone call with reporters, which he introduced by saying "welcome to a wonky Friday morning," were to discuss why he did not submit long-run forecasts for the June meeting of the Federal Open Market Committee. He also projected only one rate increase through the end of 2018, suggesting the economy is doing as well as it can given low productivity levels.
The fact that the economy has been slow to respond to rock-bottom borrowing costs is drawing attention to a possible decline in the long-run equilibrium, or neutral, rate that's consistent with an economy at full employment and stable prices. Bullard rejected a comparison of his approach with the secular stagnation theory of scant growth advanced by former U.S. Treasury Secretary Lawrence Summers, saying his view is more optimistic.
Bullard's comments followed the end of the traditional blackout period after Wednesday's meeting of the FOMC. They were the latest to question the Fed's approach to setting and communicating its policy path.
Chicago Fed chief Charles Evans on June 3 said it was worth thinking about jettisoning plans to raise rates until inflation reaches the Fed's 2 percent target. Yellen made the "new normal" reference on Wednesday during her post-FOMC press conference, after officials held the target range for the policy benchmark unchanged at 0.25 percent to 0.5 percent.
Shift in Thinking
"There's some shifting in real time of her view -- that the world is not working out the way she's thinking," said Tim Duy, a professor at the University of Oregon and a contributor to Bloomberg Businessweek.
One theme that seems consistent across the board: Rates are going to be lower than they have historically been, and where they'll settle is highly uncertain.
"We know that there is this internal debate that's been building at the Fed," about whether headwinds to growth will be permanent, said Scott Brown, chief economist at Raymond James Financial Inc. in St. Petersburg, Florida. "It's this sort of shift between a hope that things are going to get better, and this concern that things are going to remain lackluster."
Bullard's decision not to submit a long-run rate forecast, displayed in a so-called dot plot, marks a departure from Fed orthodoxy. Officials have used the dots to communicate how they see policy shaping up over time, and to give hints at how they might react to economic developments. They were introduced in 2012.
Short-Term
It is better at this point to forecast just for the short-term, Bullard said, and to acknowledge that different economic conditions could change the longer-run outcome.
Bullard's rate projection in the near term also broke with his FOMC colleagues' views. By saying that the fed funds rate should stay at 63 basis points through 2018, he's arguing that the current economic environment will persist up until the next recession, unless something changes -- for instance, a productivity pickup. The committee median, by contrast, sees a return to 2.4 percent in 2018.
"It's a deeply pessimistic view he has -- what he's saying is that we're stuck near zero," said Ethan Harris, head of global economics research at Bank of America Merrill Lynch and a former researcher at the New York Fed.
Wider Challenge
Taken together with the remarks from Evans, the initiative by the St. Louis Fed also shows the U.S. central bank thinking hard about why its models are consistently over-estimating growth and inflation, said former Minneapolis Fed chief Narayana Kocherlakota, a Bloomberg View columnist.
"Both Evans and Bullard are simply doing what they've done in the past: floating ideas to try and help the FOMC out of what they see as a problematic situation," said Kocherlakota, an economics professor at the University of Rochester, who also challenged the monetary policy consensus. He left the Fed at the end of 2015.
There are doubts of how much Bullard's initiative will ultimately persuade other Fed officials. While he votes on policy this year, his views often break with those at the core of the FOMC's thinking.
"I'm not sure that it makes sense" for "individuals in the Committee to decide to change the rules unilaterally," Bank of America's Harris said. "It just adds more noise."
Before it's here, it's on the Bloomberg Terminal.
LEARN MORE