Brexit Would Force Ad Firm JCDecaux to Rethink U.K. Commitment
by and
Co-CEO Decaux says leave vote could lead to breakup of U.K.

Decaux: 'We can feel the uncertainty in advertising demand'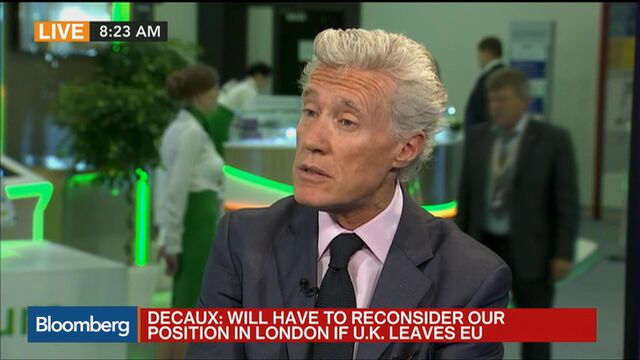 JCDecaux SA, the world's biggest outdoor-advertising company, would reconsider its investment in the U.K. if voters there decide to leave the European Union, Chairman and co-Chief Executive Officer Jean-Francois Decaux said.
Uncertainty ahead of the June 23 referendum is reflected in advertising demand, Decaux said Friday in an interview with Bloomberg Television from a conference in St. Petersburg. April was soft for TV and billboard advertising, he said, citing housing and car sales, while May was better.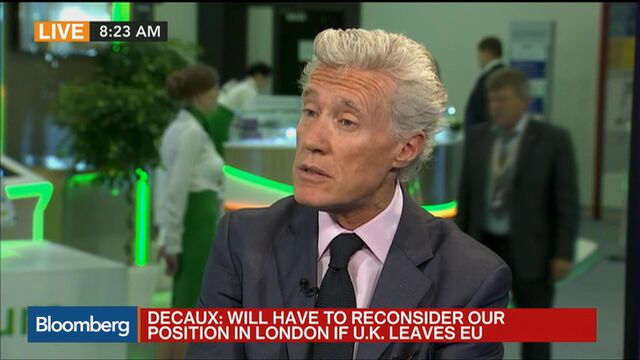 "There is no doubt there will be a slowdown in consumption" if Britain votes to leave, Decaux said. "It has already started. We can feel the uncertainty in the advertising demand."
A vote to leave could also pave the way for a breakup of the U.K., given Scottish voters' preference for staying in the EU, said Decaux, a longtime London resident. He said JCDecaux, based in Neuilly-Sur-Seine, France, has made London a focal point of its digital investments, including digital billboards.
"We can see our customers being very cautious about future investments and that will impact our industry as well," Decaux said.
For a QuickTake on the Brexit debate, click here.
Business leaders in the E.U. have generally expressed a desire for Britain to remain a member nation. European Commission President Jean-Claude Juncker, speaking to Bloomberg on the sidelines of the conference, said his message to British voters was: "Don't do it."
Before it's here, it's on the Bloomberg Terminal.
LEARN MORE