Avoid Brexit Unrest With CLOs and CMBS, SkyBridge's Gayeski Says
by
U.S. securities that respond to economy appeal: Gayeski

CMBS, CLO issuance has fallen more than 50% from year ago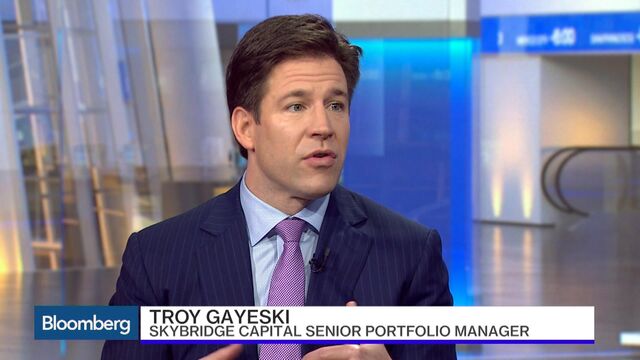 For investors looking to keep their money safe during a hair-raising summer, SkyBridge Capital has a suggestion: structured credit products.
Securities backed by U.S. commercial real estate debt, leveraged loans or residential mortgages are a good bet as they're insulated from event risk such as a British exit from the European Union or another Chinese currency devaluation, according to Troy Gayeski, a senior fund manager at SkyBridge, the hedge-fund investment firm founded by Anthony Scaramucci.
"What we're talking about is credits that are more sensitive to the U.S. economy, that are backed by U.S. assets, that are trading at very wide spreads," Gayeski said in an interview with Bloomberg Television. "If you can get high single-digit or low-teens yields owning U.S. assets that will really only struggle if we have a dark, deep recession, that's a pretty good outcome."
Investors have been shifting to lower risk assets, hedging their exposure, and heading to the sidelines in the run up to the U.K.'s vote on EU membership. Yields on benchmark 10-year Treasuries fell to the lowest since February on Thursday as money managers sought safe, liquid holdings. Credit derivatives trades on investment-grade debt in Europe meanwhile exceeded the full-day average by 1 p.m. in London on Friday, according to data compiled by Bloomberg.
Regulation Bites
The supply of these bonds has been falling, with Wall Street banks selling about $18.5 billion of notes backed by commercial mortgages this year, down 30 percent from the same period in 2015, according Deutsche Bank AG research. Issuance of collateralized loan obligations, known as CLOs, has also plummeted, falling to about $20 billion this year, less than half of what was issued in the same period in 2015, according to Wells Fargo & Co. Gayeski sees CLO issuance tumbling to between 33 percent and 50 percent of last year's total.
Dealers have grown less willing to trade many kinds of bonds, including CMBS and CLOs, in part because regulatory reforms like Basel III and the Volcker Rule have made it more expensive for banks to own these securities. When investors are selling these bonds, prices can drop fast as fewer banks are willing to buy.
"You've have a lot of technical dislocation driven by Wall Street dealer firms getting out of those businesses," said Gayeski. "If you're an investor, you have better long-term opportunities, but every now and then you're going to get punched in the face because, when fundamentals turn, you can have this big gap in price action."
Before it's here, it's on the Bloomberg Terminal.
LEARN MORE