What Would Brexit Really Mean for Firms in London's City?: Q&A
by and
Bank 'passporting' access across EEA nations may be at stake

EU fans Goldman and Lloyds of London face skeptics like Odey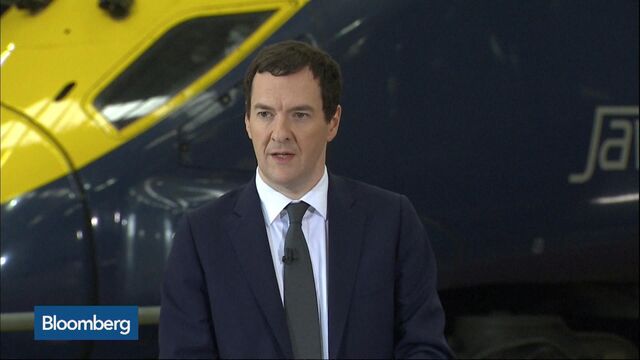 The U.K.'s referendum on European Union membership has the price of everything from London property to the pound jumping around as the June 23 vote approaches. But what would so-called Brexit really mean for the City of London? Here are answers to common questions, based on research notes and interviews with analysts, lawyers and bankers.
What is at stake?
Financial services account for 180 billion pounds ($255 billion) a year -- about 12 percent -- of U.K. economic output and contribute 66 billion pounds in taxes. In some areas, like foreign exchange trading (41 percent of the world total) and over-the counter derivatives (49 percent), London is the undisputed global leader. Brexit opponents fear a departure would precipitate years of uncertainty and steady waning of influence and market share.

What is passporting and why does it matter?
Under the current system, any U.K.-authorized firm is free to do business in any other European Economic Area state by applying for a "passport" from British regulators. For non-EU banks like JPMorgan Chase & Co., Credit Suisse Group AG or Nomura Holdings Inc., the ability to access the region's 500 million customers from a base in London has been an important draw. Faced with the prospect of losing the passport, firms are quietly considering how to up sticks with the least disturbance to their businesses.
Brexit Watch: The pound, the polls, and the probability of Brexit, all in one place
An exit wouldn't automatically mean an end to passporting rights, but the British prime minister would have to negotiate hard to keep them or gain something similar. The remaining EU members won't want to give other countries any incentive to follow the U.K. out of the door and all in effect have a veto over any subsequent trade deal. Loss of passporting could result in exports of financial services to the EU falling by half, or about 10 billion pounds, according to a study commissioned by fund manager Neil Woodford. Frankfurt, Paris and Dublin are already vying to pick up the pieces.
How would Brexit work?
The problem with contingency planning is that talks on the U.K.'s future relationship with the bloc would only begin after the U.K. gives formal notice of its intention to withdraw. That opens the way to a two-year negotiation, which could be a tight timeframe for complicated discussions, and the European Council must unanimously approve an extension.
In the so-called Norwegian model, the U.K. leaves the EU but remains part of the EEA. In a "hard exit," the U.K. loses influence over EU legislation and kisses passporting goodbye. A third scenario would see the U.K. attempt to retain passporting but secure autonomy over key issues outside of finance, such as immigration. That could be conditional on the U.K. ensuring its financial regulations are on par with those in the EU and would probably mean accepting free movement of EU citizens.
What would Brexit mean for the banks?
Every day more than a trillion dollars worth of euros change hands in London, close to half the global total, according to the Bank for International Settlements. The City's global dominance of the foreign-exchange market is likely to be tested by any Brexit package that fails to guarantee a continuation of access to the single market.
Last year, the European Central Bank lost its bid to force clearinghouses handling euro-denominated trades to be based in the 19-nation euro zone. If it left the EU, Britain wouldn't be so lucky again, and firms may find little logic in running their euro-trading divisions outside of the EU, lawyers say.
Over-the-counter derivatives are another area for concern. About three-quarters of all trading in such instruments in Europe takes place in the British capital. Without access to the single market, much of that is likely to migrate, according to lawyers and bankers who say that U.S. banks are already mulling moving operations. Still, London's vast pool of skilled labor and back-office infrastructure will be tough to replicate, and mean any loss of market share may be a slow drip rather than a sharp decline.
For big firms with offices across Europe, shifting from London to Luxembourg or Dublin may not be such a challenge, lawyers say. However, non-EU firms needing passporting rights would have to move enough of their operations for regulators in their new home to have a proper shot at supervising their activities, lawyers say. For others, moving thousands of staff would be a huge upheaval. All agree that it would be costly.
What do the banks think of it all?
Most large lenders have echoed the Bank of England's warnings about volatility and uncertainty if Britain votes to leave. While many bankers have acknowledged there are factors besides economic ones to consider, they warn an exit would have consequences for staff levels in the City.
* JPMorgan Chase & Co. CEO Jamie Dimon said this month that Brexit would be a "terrible deal" for the U.K. economy and that his bank may have to move a quarter of its 16,000 British workers to Europe if it occurs.
* HSBC Holdings Plc has said that it will keep its headquarters in the U.K., but may have to move 1,000 of its 5,000 London investment banking employees to Paris.
* Deutsche Bank AG CEO John Cryan said at a May 31 conference that business would shift away from London, in particular the euro-zone transactions that currently go through London. 
* Citigroup Inc. warned staff that a vote to leave would probably require it to "rebalance" operations across the EU to retain passporting rights.
* Morgan Stanley is considering moving about 1,000 employees from the U.K. over a number of years if Brexit happened, a person with knowledge of the plans said this month.
* Goldman Sachs Group Inc. has put its weight behind staying in the EU, and expects to move some of its offices to continental Europe in the event of an exit vote.
* UBS Group AG Chairman Axel Weber said earlier this year that he was confident the U.K. could secure a favorable deal that need not damage the City of London.
What about the fund managers? And insurers?
For hedge funds and other asset managers, many of their investment pools are already registered elsewhere in Europe. U.K. fund managers have so far been fairly sanguine, with Henderson Group Plc and Ashmore Group Plc saying they expect minimal fall-out from an exit vote. One potential sticking point is that under current rules, only members of the EEA can sell UCITS funds, a 6 trillion-euro ($6.7 trillion) market globally.
A UCITS (Undertakings For The Collective Investment Of Transferable Securities) mutual fund can be sold to any investor within the EU regardless of the country it's domiciled in. Regulators may not welcome fund managers trying to skirt the rules by setting up satellite offices on the continent while still managing funds from the U.K.
Among hedge-fund managers, Crispin Odey, founder of Odey Asset Management, is a vocal advocate for the "out" campaign, claiming the EU has morphed from an economic to a political union. Toscafund economist Savvas Savouri says concerns about the U.K. losing market share in financial services are overblown because there is no "plausible alternative."
David Harding, founder of Winton Capital Management, which oversees $30 billion, backs staying in the EU.
For insurers, the biggest concern is maintaining access to the EU's 500 million potential customers. Under the passport system, insurers are free to set up branches in other European states. That would be threatened in the event of an exit, according to Lloyds of London Chief Risk Officer Sean McGovern.
"The U.K.'s membership of the EU has been part of this success story," McGovern warned in a speech earlier this year. "We believe that it will be key to our future growth and development."
Before it's here, it's on the Bloomberg Terminal.
LEARN MORE