VW Gets More Time to Hammer Out U.S. Diesel-Cheating Accords
by
Judge orders delay due to 'highly technical' nature of talks

One-week deferral for settlements with owners and regulators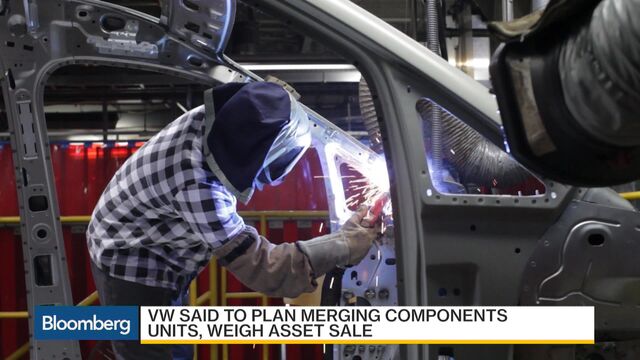 will have an extra week to finalize a settlement with the U.S. government and owners of affected diesel-powered cars in its emissions cheating case after a federal judge delayed the deadline, citing the "highly technical nature" of the negotiations.
A draft agreement will now have to be filed by noon in San Francisco on June 28, according to a court order Wednesday issued at the behest of settlement master Robert Mueller. A hearing to approve the plans to get some 480,000 cars off U.S. roads will remain scheduled for July 26, according to the order.
The delay denies Volkswagen the opportunity to present a conclusion to investors at what is likely to be a testy annual shareholders meeting on June 22. Without the settlement, the German carmaker's efforts to navigate out of the crisis remain incomplete nine months after admitting to rigging the exhaust systems in some 11 million vehicles worldwide. The company is said to have earmarked at least $10 billion to resolve civil claims in the U.S., and it set aside 16.2 billion euros ($18.3 billion) to cover the global costs of the scandal.
The talks involve the complex task of doling out money to owners, including private buyers and lease holders. There are also three generations of affected engines and numerous models affected. The negotiations also include establishing pricing criteria for vehicles that consumers want to sell back to Volkswagen.
Shares Fall
The order by U.S. District Judge Charles Breyer in San Francisco came hours before Volkswagen Chief Executive Officer Matthias Mueller is set to present the manufacturer's strategy for the decade ahead. The goals of that plan include leading the company beyond its era of crisis and into one of electric and self-driving cars.
Volkswagen fell 0.8 percent to 119.15 euros as of 11:42 a.m. in Frankfurt. The stock has recovered 38 percent since its crisis low in October.
Volkswagen, based in Wolfsburg, Germany, admitted last year that it had manipulated diesel engines with a "defeat device" so full emissions controls switched on only during pollution tests. A plan to fix the 8.5 million noncompliant cars in Europe was largely approved in December but failed to meet U.S. requirements because of differing standards.
The case is In Re: Volkswagen "Clean Diesel" Marketing, Sales Practices and Products Liability Litigation, MDL 2672, U.S. District Court, Northern District of California (San Francisco).
Before it's here, it's on the Bloomberg Terminal.
LEARN MORE