Untangling the New Dot Mystery at the Federal Reserve
by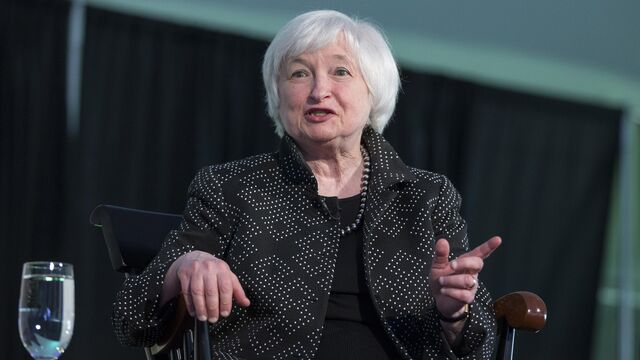 Not since the days of the negative dot has a lone Federal Reserve official aspired to blaze their own trail on the appropriate trajectory for interest rates.
The latest version of the so-called "dot plot" — which shows each monetary policymaker's forecast of the year-end policy rate consistent with the realization of their economic projections — had a notable outlier when it was released on Wednesday, along with the Federal Open Market Committee's June rate decision. It shows that one anonymous official thinks that if things go according to his or her plan, the Federal Reserve should hike rates once this year and then stay on hold for at least the next two years.

The median dots throughout the forecast horizon indicate that the consensus on the committee is to lift the policy rate at a gradual pace over the coming years. By contrast, the outlier dot sees the federal funds rate at a lower level than even financial market participants do at the end of 2018.
"Someone is pressing for a very different policy agenda. I think it reflects frustration with the persistent below target forecasts of inflation," said Tim Duy, professor of practice at the University of Oregon. "I suspect the person with the outlying dot is strategically trying to force a debate within the FOMC."
"Someone is saying there's a distribution of outcomes here, but because all the dots are clustered, it suggests we're not considering much variation in the outcomes," said Macquarie Capital Markets Ltd. Economist David Doyle. "It's similar to what [Narayana] Kocherlakota did when he put that negative dot in — he wanted to send a message." Kocherlakota is the former president of the Federal Reserve Bank of Minneapolis who has publicly suggested the possibility of implementing negative interest rates in the U.S. (FOMC members are not allowed to disclose which dot belongs to which member.)
The current unnamed official might anticipate that refraining from tightening policy in 2017 or 2018 will allow the central bank to achieve its dual mandate of price stability and full employment more expediently. Inflation has been the more difficult objective in recent years, with annual core PCE inflation running at 1.6 percent while the unemployment rate sits at 4.7 percent. Getting stronger inflation sooner would help ensure that expectations remain anchored, which is of paramount importance to monetary policymakers.
QuickTake The Fed and Its Urge to Raise Rates
A possible consequence of this course of action, however, is that the Federal Reserve will need to bring the business cycle to an end later, by sharply hiking the economy into a recession in order to hit its 2-percent target from above.
"It's a real mystery. I don't know whether the analogy is a Sherlock Holmes or Game of Thrones between the hawks and the doves," said Deustche Bank AG Chief International Economist Torsten Slok. "The person behind it, based on the speeches that are out there, is not speaking about things as would implicitly be reflected in that dot."
Early speculation among analysts is that the most likely author of this novel policy path could be Chicago Fed President Charles Evans, Fed Governor Lael Brainard, St. Louis Fed President James Bullard, or the newest member of the committee, Minneapolis Fed President Neel Kashkari.
"Clearly, candidates would be people who've erred on being dovish and viewed the world in a slightly different fashion than other members," said Doyle.
In a June 3 speech, Evans indicated that there could be a case for keeping rates on hold until inflation hits the 2 percent target. Brainard, for her part, argued in October 2015 that "deflationary cross currents emanating from abroad" entailed that the risks to inflation were tilted to the downside.
"I think this would be more effective if this person revealed his dot publicly to explain their reasoning," said Duy.
Bank of America Merrill Lynch Global Head of Economics Research Ethan Harris adds, "The interesting question is whether any other Fed officials will join this implicit dovish dissent at upcoming meetings." 
This outlier dot comes at a time when the median forecast implies less tightening by the end of 2017 or 2018 than Fed officials had previously anticipated in March. During her press conference on Wednesday, Fed Chair Janet Yellen referenced a "new normal" environment, which reinforces the idea the central bank's policy rate is not expected to return to levels that had previously been consistent with full employment and price stability.
It may also seem curious that an official who sees rates at low levels for the foreseeable future would still feel the need to raise rates this year. However, it may be that this monetary policymaker sees these low nominal rates not as stimulative, but as neither boosting nor restraining economic activity over the longer haul.
"This actually makes a whole lot of sense. If you think the economy is operating at its potential and has little slack, you can justify another hike as being appropriate," said Doyle. "And if you think it's one more and done, you probably think the longer-run rate is around that level."
Before it's here, it's on the Bloomberg Terminal.
LEARN MORE