Treasuries Erase Gains After Yields Touch Lowest Level Since '12
By and
Relatively higher yields in U.S. boost global demand

Gains pared after death of U.K. lawmaker before Brexit vote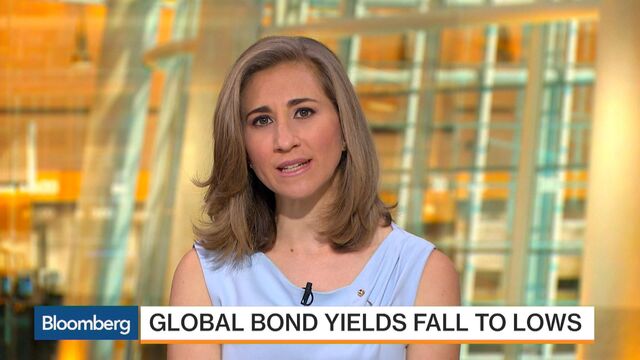 Treasuries erased gains after 10-year note yields touched the lowest level since 2012, amid shifting bets on the outcome of next week's U.K. vote on membership in the European Union.
Benchmark 10-year note yields climbed after a U.K. Labor Party lawmaker was killed Thursday, leading to a suspension of campaigning before the June 23 Brexit referendum. Treasuries had gained as part of a rally in global government securities that pushed benchmark 10-year yields in Germany and Japan further below zero. 
Demand for Treasuries rose after Federal Reserve Chair Janet Yellen on Wednesday said slow productivity growth and aging societies may depress interest rates, and also cited the risk of Brexit as a reason to keep rates steady. Polls in recent days have shown the "Leave" camp leading. The Guardian newspaper reported police are investigating reports saying the suspect in the U.K. incident had shouted "Britain First," the name of a group that campaigns against immigration and membership in the EU.

"The marginal reduction of the Brexit chance is giving the risk-on sentiment a bit of a boost," said Stanley Sun, a New York-based strategist at Nomura Holdings Inc., one of the 23 primary dealers that trade with the Fed. "I don't feel it's the end of the Brexit fear yet, but we had a dramatic move this morning in bond prices, so it's probably a bit overdone on an intraday basis."
The benchmark 10-year note yield rose one basis point, or 0.01 percentage point, to 1.58 percent as of 5 p.m. in New York. It earlier touched 1.52 percent, the lowest intraday level since August 2012, according to Bloomberg Bond Trader data. The yield reached a record-low 1.38 percent in July 2012.
Fed Projections
The Fed on Wednesday held rates steady and lowered projections for the path of tightening. Compared with three months ago, fewer Fed officials expect the central bank to raise rates more than once this year, based on projections the central bank issued.
The appetite for U.S. debt has been robust even with 10-year notes trading at levels regarded as pricey. The New York Fed's measure of the term premium for that maturity, a gauge of the perceived riskiness of longer-dated securities, remains near the lowest since 1962.
"We're the only one with yields," said Thomas Roth, senior Treasury trader in New York at Mitsubishi UFJ Securities USA Inc. "If rates continue to go more negative there, there will be more demand for 10 years over here."
Futures show the probability the U.S. central bank will raise rates at its July meeting fell to 8 percent, from 79 percent at the start of the year. Traders now see about a 37 percent chance of a rate increase in 2016.