Viacom's Redstone Moves to Take Dauman, Others Off Board
by and
National Amusements holding company elects five new members

Redstone seeks Delaware court approval for ousting directors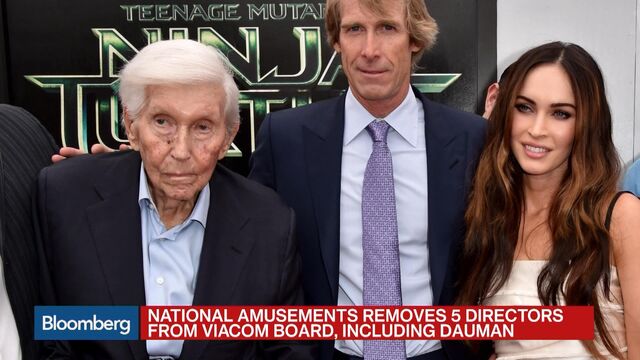 Sumner Redstone's National Amusements removed five members of the Viacom Inc. board Thursday -- including Chairman Philippe Dauman -- as the billionaire continues to reassert control of the media giant and take steps to replace Dauman as chief executive officer.
George Abrams, Blythe McGarvie, Frederic Salerno and William Schwartz were also ousted from the board, according to a statement Thursday from National Amusements Inc., Redstone's theater chain and the controlling shareholder in Viacom. The changes are subject to approval by a court in Delaware, where Viacom is incorporated.
By replacing several of Redstone's oldest associates, National Amusements has stacked up enough votes to change Viacom's management, which has been criticized for lagging stock performance over the past two years.
Sumner Redstone and his daughter, Shari, have indicated a desire to change the company's leadership. The latest maneuver in the long-running drama came one day after the elder Redstone said in a letter to one of the deposed directors that he doesn't trust Dauman or the board to act in Viacom's best interests.
Viacom Class B shares rose 6.8 percent to $45.05 at the close in New York. They've declined 33 percent in the past year as Viacom battled falling ad sales and earnings at the company's cable networks, along with forecasts for a 2016 loss at the Paramount Pictures film division.
The board dismissals also speak to the growing chasm between Redstone and his longtime colleagues and the influence of his daughter, Shari. The five new Viacom directors are Kenneth Lerer, chairman of BuzzFeed; Thomas May, chairman of Eversource Energy; Judith McHale, former CEO of Discovery Communications Inc.; Ronald Nelson, former co-chief operating officer of DreamWorks SKG; and Nicole Seligman, former president of Sony Entertainment. Some of the new members are very close to Shari, including Seligman and Lerer.
Salerno, one of the ousted Viacom directors, filed a countersuit to oppose the move and said Shari manipulated the billionaire into pushing out board members.
"This is a brazen and demonstrably invalid attempt by Ms. Redstone to gain control of Viacom and its management in disregard of Sumner Redstone's wishes and to undermine the current Board's ability to represent the best interests of all of the stockholders of Viacom," Salerno said in an e-mailed statement.
Delaware Suit
Redstone's family company holds an 80 percent voting stake in Viacom. That gives him or his designee the power under Delaware law to make board changes so long as he follows proper procedures and doesn't abuse his position as controlling shareholder, according to Larry Hamermesh, a Widener University law professor who teaches about Delaware corporate governance.
On Thursday, Redstone's lawyers asked the Delaware Chancery Court to find the company properly removed the five from Viacom's board and validly appointed the new directors. The billionaire's lawyers contend in the suit that the company's bylaws allow shareholders to use written consents to "take any action that may be taken at an annual or special meeting." Those consents were used to oust Dauman and other former directors, according to the filing.
Dauman's Last Days
With the court's approval, a new board will be in position to replace Dauman, who has survived nearly two years of a decline in Viacom's share price and calls for his dismissal thanks to Redstone's support. That evaporated soon after Dauman moved to sell a stake in Paramount Pictures. Redstone removed Dauman from the trust that will govern the billionaire's holdings when he dies or is incapacitated, while Shari called for new management.
Dauman has had a decades-long relationship with Redstone, 93, whom he met as a young corporate lawyer. He went on to help the media magnate engineer some of his biggest deals, including the $10 billion acquisition of Paramount in 1994. For his part, Dauman has sued Redstone, arguing that he was unduly influenced by his daughter Shari Redstone and not capable of removing Dauman from the trust.
"Investors have lost confidence in Philippe Dauman and the board, as fundamentals and the company's strategic positioning/outlook darkened," BTIG analyst Rich Greenfield said in a note. "Unsurprisingly, in the last few weeks investor sentiment surrounding Viacom has begun to improve modestly as the Sumner Redstone saga has investors hopeful that change to the board and management could happen."
The current Viacom board will stay in place until the Delaware court rules. National Amusements expects the court to rule expeditiously in the coming days and weeks, according to a spokesperson. 
"All the Viacom shareholders and employees got rewarded today with this move," Eric Jackson, a managing director of SpringOwl Asset Management LLC, said in a statement. "The board has been significantly upgraded."
Jackson, who said he supports the Redstones, added: "We've been clear that no single action would help boost the stock more than removing Philippe Dauman."
Before it's here, it's on the Bloomberg Terminal.
LEARN MORE