Slate and Malcolm Gladwell Aim to Become the Next Serial
The Slate Group's podcasting network, Panoply, is hoping its new show, Revisionist History, will be a huge hit.
By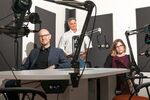 On Thursday, Malcolm Gladwell launched a podcast called Revisionist History. The podcast, which Gladwell says he made in lieu of writing a book, re-examines past events that Gladwell thinks were misinterpreted the first time around. Even before anyone could listen to it, the 10-episode show was a hit. On Wednesday night, it was the top podcast series in iTunes, even though it consisted of nothing more than a three-minute introductory clip.