Skyfall Lounge Is Remaking How You Party in Vegas
Craft cocktails hit the Strip.
By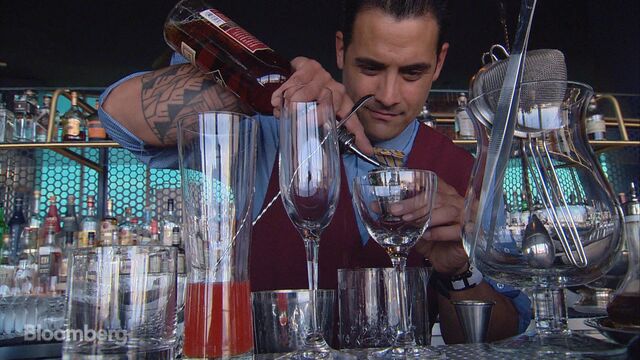 Skyfall Lounge isn't your typical Vegas den. Drinks aren't mixed with soda from the gun. There are no scantily clad waitresses slinging bottles amid blow-horns and sparklers. Instead, bar assistants arrive four hours ahead of opening to juice fresh citrus and execute other legwork that allows bartenders to mix fresh cocktails.
Here on the 64th floor of the Delano hotel, booze—and boozing—is taken as seriously as the prime sunset views. The idea is disrupting the way cocktails are consumed on the Strip. 

"We certainly pushed it with some of the ingredients that went on the menu," said Devon Tarby, a partner of Proprietors LLC. You may know Proprietors as the folks behind New York's ur-speakeasy Death & Co, which is responsible for helping ignite the modern craft cocktail trend in the U.S. (if not globally). Celebrated chef Alain Ducasse tapped them to create Skyfall's drinks menu—Ducasse owns and operates the lounge, as well as Rivea restaurant next door—and they've made it their mission to promote upscale cocktail culture in Vegas, an appreciation beyond the inebriation. "And much to our delight, people are cool with it. People are chugging sherry at this bar, and we are psyched."

During early hours, the lounge has a casual vibe, as customers spill over from Rivea, where diners can order a five-course, $160 cocktail pairing with their meal. As the hours trend later, a more upscale, nightclub vibe takes over.

So yes, there is bottle service. But here Skyfall goes a step beyond other offerings you'll find on the Strip. Starting at $325, they offer specialty mixers for each spirit category such as the "East Side" mixer of fresh lime juice, simple syrup, and fresh mint sprigs that accompanies a bottle of gin.
"The important thing to note is that they are fresh, they are made to order by the bartender," said Tarby of the mixers, while stationed behind the bar. "It is a little more interesting than the typical off-the-gun kinda stuff." The goal, she said, is to have customers participate in cocktail culture, even as they take Sin City for a spin.
For those unwilling to splurge or unable to finish a bottle, Skyfall has another option: The bar recently added a punch bowl service for $150.
Here's a preview below.
Pink Flamingo Punch 

Serves 6
Ingredients
6 oz. Absolut Elyx
4.5 oz. dry vermouth
1.5 oz. Aperol
4.5 oz. strawberry syrup
4.5 oz. lemon juice
9 oz. Champagne 
Sliced strawberries and lemons
Method
To make strawberry syrup, blend equal parts fresh hulled strawberries with white sugar until smooth. Strain out solids. (Will last roughly two weeks in refrigerator.) For punch, combine ingredients over ice, stir until cold, and top with Champagne. Garnish with floating strawberry and lemon slices.
Before it's here, it's on the Bloomberg Terminal.
LEARN MORE