Russia's Novak Sees No Need Now to Cooperate With Saudis on Oil
by and
U.S shale production may start to rebound next year on prices

Global period of low oil prices could last 10 to 15 years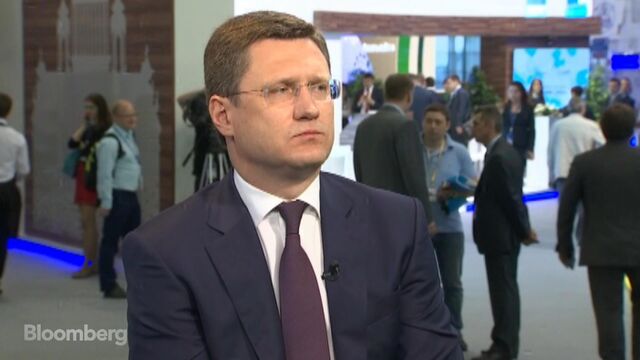 It makes no sense now for Russia and Saudi Arabia, the world's biggest oil suppliers, to work together to influence the market, even as U.S. shale production is poised to rebound next year, Russia's Energy Minister said.
Without a "force majeure with prices," there's no point in talking about joint action, Alexander Novak said in an interview on Bloomberg TV on the sidelines of the St. Petersburg International Economic Forum. "The door is always open," but there should be "a desire and a need" for cooperation, which is not the case now, he said.

The collapse in Brent crude prices to a 12-year low in January squeezed out high-cost producers, helping to reduce oversupply and ultimately boost prices. A tentative deal between Russia, Saudi Arabia and other major producers to freeze output in order to stem the glut was abandoned in April, in part because a Saudi-led OPEC policy of pumping without limits seemed to be paying off.
"We are in a global period of low oil prices now and such periods may last 10 to 15 years," Novak said. Still, today's price of about $50 a barrel is enough to proceed with investments, which suits both producers and customers, he said.
At current prices, U.S. shale production will probably start recovering early next year, Novak said. "Shale production can pick up quickly," he said. "A recovery cycle may take six to nine months on a price increase." There are also risks that prices will fall if crude production in Canada, Libya or Nigeria rebounds after supply disruptions in those countries. "We just should watch the market closely now," he said.
Novak met Venezuela's Oil Minister Eulogio Del Pino to discuss cooperation between members of the Organization of Petroleum Exporting Countries and non-members, including a Venezuelan proposal for an output "band" system, according to an e-mailed statement from the South American country's oil ministry.
Novak was expected to meet new Saudi Minister of Energy and Industry Khalid al-Falih in Beijing this month at the G20 energy summit. While the meeting is possible, it's not confirmed yet, Novak said.
While the government in Moscow prepares to draft the nation's 2017 budget using an average oil price of $40 a barrel, Novak said it may reach $50. Brent crude this year has averaged about $40 a barrel.
In a later interview, Novak reiterated a plan to increase crude output to about 540 million metric tons this year and set next year's target "somewhere in the range" of 525 million to 545 million tons. Crude exports may rise about 3 percent this year to roughly 252 million tons, and the trend is likely to continue next year, he said.
Watch Next: Russia's Novak Says 2017 Oil Price May Average $50 P/B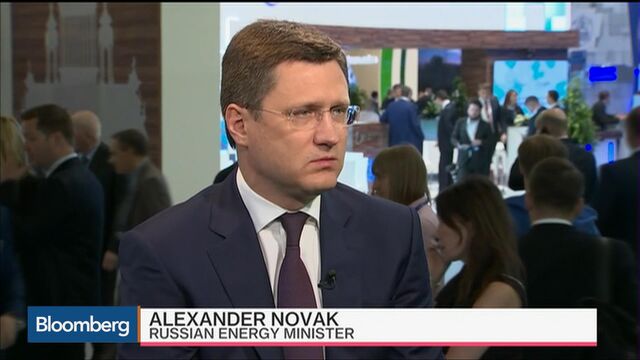 Before it's here, it's on the Bloomberg Terminal.
LEARN MORE