Rich U.S. High-Tech Firms May Be Stifling Innovation, OECD Says
by
Paris-based group points to takeovers of fledgling companies

Says financial regulation may also be crimping productivity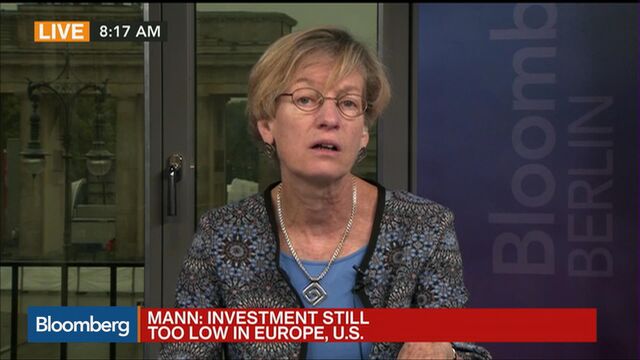 It's practically an article of faith in Silicon Valley: High-tech companies are an unalloyed good for the U.S. economy, generating the innovation that is critical to its long-term success.
That's not always the case, according to the Organization for Economic Cooperation and Development. The Paris-based group argues that rich, entrenched technology companies may be dampening rather than promoting innovation by buying up fledgling firms.

"Merger and acquisition activity is showing signs of blunting market forces in some industries," the 34-nation OECD said in a report Thursday on the U.S. economy. "This is particularly apparent in the high-tech industry, where deep-pocketed incumbents have acquired promising young firms."
It singled out Facebook Inc.'s 2014 purchase of mobile-messaging start-up WhatsApp Inc. as an example of the buyout trend. Such moves "tend to sideline the strong-performing young firms that play a key role in pushing market innovation and challenging incumbents," the organization said.
High-tech isn't the only industry where the OECD saw potential for problems. It also cited the retailing and pharmaceuticals as sectors "where consolidation is especially evident."
The group, which serves as forum for democracies with market economies to swap policy ideas, suggested that the U.S. consider broadening the scope of its existing antitrust laws in response.
Financial Rules
Another possible reason for the country's recent sluggish productivity performance, according to the OECD: tougher financial regulations imposed in the wake of the 2007 to 2009 economic crisis. While making the financial system safer, they also could be limiting the amount of credit provided to businesses and entrepreneurs.
"Time will tell whether policy makers need to recalibrate these measures as the trade-offs between financial stability and funding availability become more apparent," it said.
The report was mostly upbeat on the state of the U.S. economy seven years after the end of the worst financial crisis since the Great Depression.
"The United States is making a comeback," the group said. "The U.S. economic recovery, while modest by historical standards, has been one of the strongest in the OECD."

Gross domestic product has expanded at an annual average rate of about 2 percent since the middle of 2009, and the OECD sees more of the same this year and next. It sees "stubbornly low" inflation edging higher toward the Federal Reserve's 2 percent goal.
"Further increases in interest rates would be warranted in line with inflation becoming more consistent with the Fed's inflation target, though at a pace so as not to jeopardize the recovery," the OECD said. "As the target is symmetric, inflation could run temporarily higher than 2 percent."
Before it's here, it's on the Bloomberg Terminal.
LEARN MORE