Reserves Chest Empowers Rajan as Brexit Intensifies Rupee Swings
by
Currency's implied volatility this week rose most since August

An estimated $20 billion outflow seen as currency swaps mature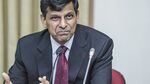 India's foreign-exchange reserves surged to a record this month. The timing couldn't have been better.
As anxiety around a potential British exit from the European Union reaches fever pitch, rupee swings are rising at the fastest pace since August. Add to that an estimated $20 billion outflow from maturing foreign-currency deposits come September and the possibility of Governor Raghuram Rajan being replaced, and the Reserve Bank of India may need to draw on its war chest to stem swings in Asia's worst-performing currency after the yuan.
"A lot of global and domestic headwinds are coming together and that could make the rupee market very volatile," said Amit Agrawal, a currency strategist at Societe Generale SA in Bengaluru. "Record reserves and the central bank's proactive approach will help contain the volatility. All eyes are on September.''
Uncertainty about the U.K.'s June 23 referendum has cast a pall over the global outlook, spurring risk aversion across emerging markets. Both the "Remain" and "Leave" sides suspended campaigning for a second day on Friday after the murder of Labour Party lawmaker Jo Cox. Some investors have also flagged concern about how the dollar-deposit outflow will impact rupee volatility and liquidity in the banking sector and speculation about whether Rajan will serve a second term is rife.
The rupee fell 0.5 percent this week to 67.085 a dollar in Mumbai Friday. A gauge of its one-month implied volatility climbed 85 basis points, the most since August, to 6.72 percent, as investors also dealt with central bank meetings in the U.S. and Japan. That's still much lower than the 22.8 percent level seen in August 2013, when the Federal Reserve's signal to end monetary stimulus triggered an exodus of funds from emerging markets like India and dragged the rupee to a record 68.845 a dollar. The credit for it goes to Rajan.
The former International Monetary Fund chief economist, who took charge in September 2013, lured inflows of about $34 billion through discounted foreign-currency swaps, helping lift the rupee from a record low. He also sought to build a war chest to help defend the rupee from global shocks, with about a fourth of India's foreign-exchange stockpile being added during his term. The hoard increased by $3.3 billion in the week ended June 3, the most since the period ended April 1, to a record $363.5 billion. It fell to $363.2 billion as of June 10, central bank data showed on Friday.
Investors including DBS Bank Ltd. and AllianceBernstein LP are confident the monetary authority has enough ammunition now to mitigate the impact of the dollar outflow as a majority of the emergency currency swaps mature between September and November. The central bank has built up net dollar purchases in the forward market worth $29 billion to cover any possible shortages, according to Morgan Stanley.
'A Molehill'
The RBI has "plenty of dollars" to tide over shortages and "in case of extreme volatility," Rajan said June 7 after keeping the benchmark rate unchanged at a five-year low.
"The maturing of deposits is likely to be a molehill, not a mountain," Radhika Rao, an economist at DBS Bank in Singapore, wrote in a note last week. "The RBI has the available policy tools to ensure that this impact doesn't become enduring."
The rupee is Asia's worst performer this year after the yuan, having weakened 1.4 percent, as foreign holdings of local-currency government and corporate debt dropped by 95.2 billion rupees ($1.4 billion). That compares with 2016's inflows of $2.8 billion into Indian shares.
Debt Purchases
The outflows from maturing deposits "would be pretty quickly discounted if emerging markets are going through a normal, positive state," said Anthony Chan, a senior economist at AllianceBernstein, which manages $487 billion globally. "If emerging markets are more volatile, then this might be a reason for investors to get nervous about the rupee."
For more on AllianceBernstein's view on India's rupee and bonds, click here.
Rajan, whose three-year term ends early September, has taken a series of liquidity measures and infused 1.41 trillion rupees through open-market bond purchases since last December to boost the supply of cash in the banking system. The RBI plans to buy as much as 100 billion rupees more of debt on June 20, according to a statement Thursday.
More background on the topic of Rajan's reappointment can be found here.
"If required, the RBI could resort to additional measures such as OMO purchases and additional reserve buildup in the run-up to September," Morgan Stanley economists including Chetan Ahya wrote in a June 15 report.
Before it's here, it's on the Bloomberg Terminal.
LEARN MORE