Publicis Chairman Says Ad Firms Should Resolve Client Complaints
by and
Levy: Agencies adhere to contracts but some aren't transparent

'Need to sit down with our counterparts and come to agreement'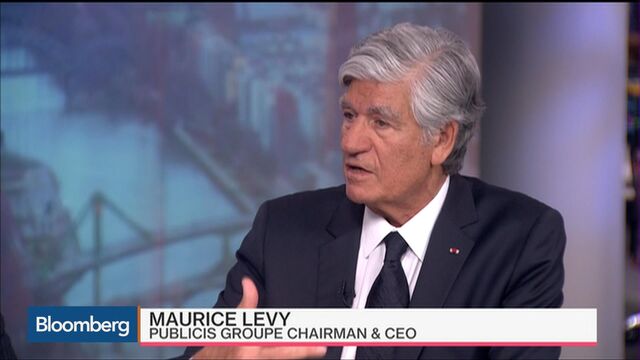 Publicis Groupe SA Chairman Maurice Levy said the advertising industry should sit down with its biggest clients to resolve a high-stakes dispute over billing practices that burst into the open in a report last week.
The study, released June 7, was commissioned by the U.S. Association of National Advertisers, which represents retail and consumer-products giants like McDonald's Corp., Wal-Mart Stores Inc. and Procter & Gamble Co. While it didn't identify agencies or clients by name, it suggested that Madison Avenue has been padding its bills without providing enough disclosure to its biggest customers.
While Levy defended the ad industry, saying it is following the terms of its contracts, he said there is also a transparency aspect of the controversy that needs to be addressed.
"I don't believe that there is a huge issue of integrity, but I do believe that we need to sit down with our counterparts and come to an agreement, in order that this bad press is going out of the landscape, and we can work positively with our clients," Levy said in an interview with Bloomberg Television Thursday.
The report exposed a simmering rift between a handful of global advertising agencies and its biggest customers, singling out common practices such as volume rebates that the ad agencies' media-buying units pocket, rather than passing along to customers. The rebates ranged from 1.67 percent to 20 percent of aggregate media spending.
Other major global ad firms include WPP Plc, Omnicom Group Inc., Interpublic Group of Cos., Dentsu Inc. and Havas SA. Their U.S. industry group, the American Association of Advertising Agencies, said last week that the ANA report "does nothing to foster a productive conversation or to move our industry forward and could cause substantial economic damage to all media agencies."
Publicis said in a statement last week that the claims in ANA report are "unsubstantiated" and were causing serious damage to the reputation of the advertising industry and endangering trust.
"Some contracts allow for non-transparency. Some contracts demand transparency," Levy said. "And I'm pretty sure that, at least for Publicis, that we are bound to the contract and we are delivering exactly what the contract is proposing."
Before it's here, it's on the Bloomberg Terminal.
LEARN MORE