Osborne, Carney Reflect on Values After U.K. Lawmaker Murdered
by
Jo Cox killed while visiting constituents on Thursday

Campaigning in European Union vote suspended after death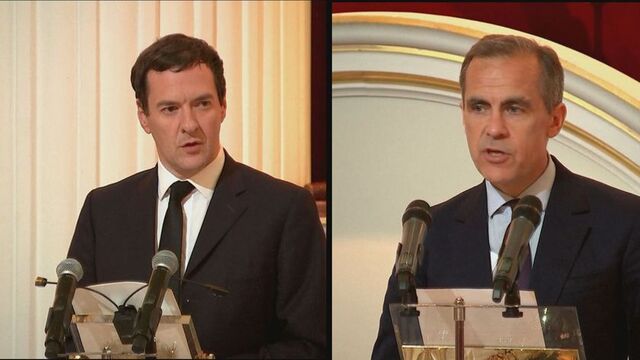 Chancellor of the Exchequer George Osborne and Bank of England Governor Mark Carney canceled key speeches to pay tribute to Jo Cox, the British lawmaker who was murdered earlier Thursday.
The U.K.'s top finance officials had been due to deliver addresses to the annual Mansion House dinner in the City of London, an event traditionally rich in announcements and eagerly awaited by traders and investors.

Instead, they used the occasion to reflect on what Osborne said was "the service that all MPs give to their country and the liberal democratic values that we hold dear." Carney said he has long admired the British public-service ethos and its efforts "to strive for a better future."
Cox, a Labour Party member of Parliament, died after being attacked as she met constituents in her electoral district in West Yorkshire in the north of England. News of her death led to the immediate cessation of the increasingly bitter campaign for the June 23 referendum on European Union membership.
"The best tribute that this room, this city and this country can give to the memory of Jo Cox is to renew our shared commitment, whatever our differences, to promote the common good in the United Kingdom and the world," Carney said.
In his remarks, Osborne said: "Tonight, in this Mansion House, where so many great events in our history have taken place, we should all reflect and hold to the values that are the foundation of this great nation."
"People are free in this country to live their lives as they choose and express themselves without fear. Society will protect their right to do so and hold to account those who disregard our laws," the chancellor said. "Today's horrible events are an assault on all of these values."
Earlier, Labour leader Jeremy Corbyn paid tribute to Cox, saying she had a "lifelong record of public service and a deep commitment to humanity." Prime Minister David Cameron said the country "lost a great star."
Before it's here, it's on the Bloomberg Terminal.
LEARN MORE