Global Stocks Climb After Brexit Campaign Suspended
by and
U.K. puts campaign on EU membership vote on hold second day

Crude jumps most in two months to trade near $48 a barrel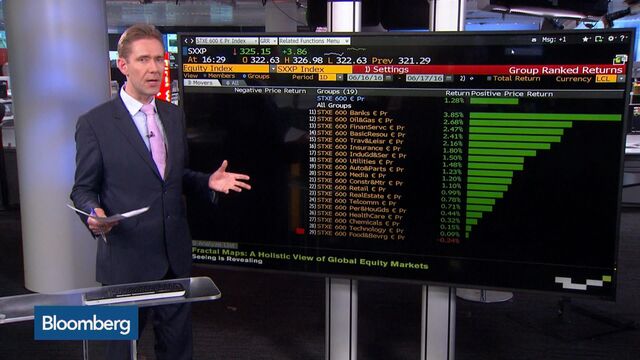 Global equities climbed with the pound as a rally in oil lifted energy stocks and speculation built that the suspension of Brexit campaigning after a lawmaker's murder supported opponents of U.K. secession. Treasuries fell as demand for havens cooled.
The MSCI All-Country World Index rose from a four-week low, while the S&P 500 pared its decline as crude rallied the most since April, snapping a six-day losing streak. Sterling posted the biggest increase in three months after campaigning over whether the U.K. should quit the EU was on hold a second day after the killing of Jo Cox, a Parliament member who supported voting to stay in next week's referendum. 

Odds on the U.K. leaving the EU slid as low as 36 percent after exceeding 44 percent on Thursday, according to Oddschecker calculations based on bookmakers' quotes. Anxiety stemming from Brexit had curbed demand for riskier assets over the past week. Global stocks clawed back some losses on Friday as an opinion poll on British voters' intentions on June 23 was delayed.
"The market turned, more than anything, because some of the hedge fund-embedded bets took an abrupt turn when the probabilities changed," said Jim Paulsen, the Minneapolis-based chief investment strategist at Wells Capital Management Inc., which oversees $337 billion. "At a minimum, a move away from Brexit was augmented by the unfortunate incident when the British minister was shot. That suspended the hot debate, and if anything it seemed to mute some Brexit momentum."
For more on the U.K. referendum and suspension of the campaign, click here.
For a overview of central bank comments and decisions this week, click here.
Stocks
The MSCI index of global equities rose 0.5 percent at 4 p.m. in New York, while the Stoxx Europe 600 Index jumped 1.4 percent, trimming a third week of losses. Energy producers were among the biggest gainers in both gauges.
Some traders saw a natural evolution in odds against British secession as the vote neared, citing the experience of Scotland's independence vote in September 2014.
"Whenever a politician is assassinated it's difficult to assess it as a positive or negative to a political group in any way, but what we've seen in the past is as you get closer to the actual voting date, the momentum in the leave group tends to narrow substantially," Larry Peruzzi, managing director of international equities at Mischler Financial Group Inc. in Boston, said by phone. "You'd think the Brexit camp would need to be doing more campaigning to widen their lead."
Rallying energy shares helped the S&P 500 trim its retreat to 0.3 percent, after the index snapped a five-day losing streak on Thursday. The benchmark still fell the most this week since April. Health-care and technology shares, groups that have been among the market's weakest all year, contributed the most to losses today.
Volume was at least 30 percent higher than the one-month average today because of an event known as quadruple witching, when futures and options contracts on indexes and individual stocks expire. Some of the biggest instruments for protect against losses in equities are rolling over just a few days before the U.K.'s referendum on secession, an event that will force would-be hedgers to roll into new positions.
Currencies
The pound strengthened by 1.1 percent to $1.4355, the steepest one-day jump since March 17. It fell to a two-month low versus the dollar on Thursday as the polls have tightened and Bank of England officials reiterated warnings about the risks of Brexit to the U.K. economy.
"I still think in the last few sessions ahead of the Brexit vote that we are in for a huge amount of volatility, that sterling is still highly vulnerable as are all risky assets," said Jane Foley, a senior currency strategist at Rabobank International in London. "Whilst there has been an appearance of some sort of relief rally as campaigning has been suspended, the vote could still go either way."
The Bloomberg Dollar Spot Index, which tracks the greenback against 10 major peers, slipped 0.4 percent in a third day of losses.
The yen was little changed. Japanese Finance Minister Aso told reporters Friday that he was very concerned about one-sided, abrupt and speculative currency movements, speaking after the Bank of Japan refrained from expanding its record monetary stimulus. The yen climbed as high as 103.55 on Thursday, the strongest level in almost two years.
Commodities
The Bloomberg Commodity Index rallied 1.7 percent, ending three days of losses, as a retreat in the dollar increased the appeal of commodities priced in the U.S. currency.
Oil jumped, paring its biggest weekly decline in more than two months. West Texas Intermediate jumped 3.8 percent to $47.98 a barrel.
Nickel led metals higher, climbing 2.2 percent. Copper and aluminum also rose.
Gold advanced a third week. Bullion for immediate delivery rose 1.6 percent to $1,298.73 an ounce. The metal touched on Thursday the highest since August 2014.
Bonds
Treasuries due in a decade fell, lifting the yield by three basis points to 1.61 percent. It touched 1.52 percent in the last session, the lowest intraday level since August 2012, after the Fed this week reduced its projections for the path of policy tightening.
Germany's 10-year bonds fell, ending a three-day rally that pushed the yield below zero for the first time. Similar-maturity U.K. debt snapped an eight-day run of gains.
Japan's 10-year bonds retreated for the first time in seven days. It sank to a record minus 0.21 percent in the last session as the BOJ said inflation in the nation may be zero or negative.
(
Corrects story from June 17 to remove reference to record in third paragraph.
)
Before it's here, it's on the Bloomberg Terminal.
LEARN MORE