Mortgages Get Metaphorical as the Securitization Industry Takes Aim at New Rules
Europe's ABS industry is developing a new language to explain its discontents with rules governing the notes.
by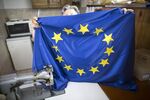 With their "waterfall payments," "credit enhancements," and "X notes," asset-backed securities (ABS) can be complicated.
Securitization bankers in the runup to the 2008 financial crisis often took comfort in the technical terminology and alphabet soup of acronyms that characterized the business of repackaging loans and other assets into salable bonds. Now they're reverting to much more accessible wording in their efforts to fight back against new rules designed to make the industry safer.
Take Ian Bell, the head of industry standards group Prime Collateralised Securities. Speaking before a European Parliament committee earlier this week, he used a food safety analogy to criticize proposals to make firms hold on to a bigger chunk of the transactions they originate. 

If bacteria are killed when food is heated to 60 degrees Celsius (140F), the microbes will not be any more dead at 240 degrees, nor will the food be any safer to eat—it will be incinerated, he said. Likewise, if "skin in the game" rules are four times stricter, it would not make the market safer, he said, but instead kill off large parts of it. His comments followed a proposal by European Parliament member Paul Tang to increase the retention requirement to 20 percent from the current level of 5 percent.
Meanwhile, Steve Gandy, head of debt capital market solutions at Banco Santander SA, recalled a comment from Ford Motor Credit Co LLC in a briefing to the press yesterday at the Global ABS conference in Barcelona. The financing arm of the auto conglomerate compared ABS regulations to a car engine: For a motor to work, every part needs to be present. Having 90 percent of the parts won't give you 90 percent of the performance—the car won't even start.
The industry that gained mainstream attention by championing financial products as complex as the terminology that obscured their risks now takes strides to reinvent itself, and even some policymakers are seeing the benefits of plain speech. Yves Mersch of the European Central Bank, which is the principal advocate of a revival of a market it thinks can help support lending to businesses, called on the weather to take aim at proposed capital regulations for the notes. 
"All ABS were perceived as too risky due to the U.S. experience in the subprime mortgage markets. But this regulation is like calibrating the price of flood insurance on the experience of New Orleans for a city like Madrid."

There's a certain irony that an industry that became the posterchild for the precrisis financial engineering of Wall Street wizards is trying to justify its existence with simplistic metaphors. Bankers will argue that the plainness is warranted in their push to revive Europe's ABS market as a key conduit for financing business and boosting the continent's lagging economy.
Before it's here, it's on the Bloomberg Terminal.
LEARN MORE