Brexit May Call for Emergency Action From Japan's Central Bank
by and
Governor expresses concern about strengthening exchange rate

'No option' but to ease more even without Brexit: economist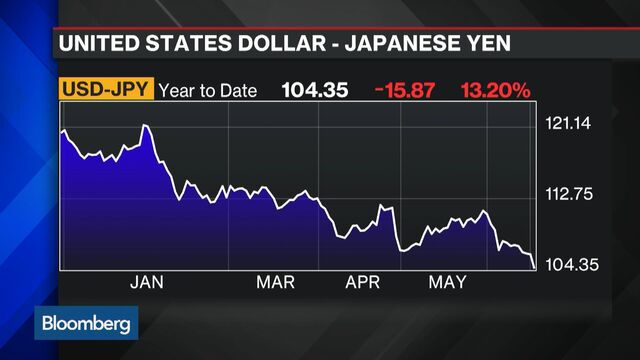 Bank of Japan Governor Haruhiko Kuroda's decision to hold fire on stimulus Thursday offers policy makers greater scope to react in a little over a week, when global financial markets will be contending with the U.K. vote on European Union membership.
Kuroda may need to call on all his skills as a former head of Japan's currency policy when the results of the vote emerge during the Tokyo trading day June 24. Any mass sell-off in the pound and euro that resulted from a pro-Brexit result would send the yen, already at its strongest in almost two years, soaring further -- and damage prospects for Japanese reflation with it.

In his three policy moves since taking the helm in March 2013, Kuroda, 71, opted for shock-and-awe tactics to surprise observers and the public, aiming to shake Japan out of what officials say is a deflationary mindset. One tactic he hasn't used: an emergency BOJ policy meeting, the last of which was an August 2010 effort to counter yen gains and equity declines.
Kuroda said at a press briefing Thursday that the BOJ won't hesitate to add stimulus if needed, will carefully monitor the impact of the Brexit vote and is in close contact with other central banks including the Bank of England. He said the Brexit vote is "making international financial markets somewhat unstable," while declining to comment on the potential for an unscheduled BOJ meeting.

"The BOJ will take action if there's significant market turmoil in the wake of Brexit," predicted Hiroshi Miyazaki, an economist at Mitsubishi UFJ Morgan Stanley in Tokyo. "The first reaction is likely to be coordinated among major nations -- it could be the injection of liquidity or joint intervention."
The last occasion for coordinated currency action was in 2011, when the Group of Seven jointly intervened to drive down the yen after it jumped in the aftermath of Japan's earthquake and nuclear meltdown. The BOJ and its peers from the U.S., U.K., euro region, Canada and Switzerland have permanent swap lines to offer liquidity in each others' currencies as a backstop as needed.
Should the Brexit vote come off without undue market disruption, focus in Japan would shift to the next scheduled BOJ gathering, July 28-29, when members will update their economic projections in the wake of disappointing data on inflation. The bank on Thursday already presaged a tempered outlook, acknowledging that consumer-price changes are likely to be "slightly negative" or about zero for the time being.
Yen Concern
While expressing optimism that inflation will hit his 2 percent target in the timeframe currently projected -- during the fiscal year ending in March 2018 -- Kuroda said "I'm well aware that if the yen rises excessively, it could well have a big impact on the pace of inflation." Currency effects tend to occur gradually, he said, adding that monetary policy isn't decided based on currency moves. "Speaking of the strengthening yen, we think it's not favorable that the yen rises and volatility increases without reflecting economic fundamentals."
With Prime Minister Shinzo Abe planning to assemble a fiscal package only in the autumn, other than currency-market intervention, it will be up to monetary policy to offer solace to Japanese companies contending with a stronger yen. For his part, Chief Cabinet Secretary Yoshihide Suga said Thursday that sudden, speculative moves have been seen in the currency market and that he was extremely concerned. Officials will pay even more attention than usual and act if needed, he said.
Easing Options
Most economists surveyed before Thursday's meeting anticipated action either in June or July, with a few pointing to September or November as most likely -- by when the size of the fiscal stimulus may be known. The range of options for action goes from boosting the main policy tool -- the target for increasing holdings of government bond by 80 trillion yen ($767 billion) a year -- to a further reduction in the rate charged on a portion of banks' reserves parked at the BOJ to expanded purchases of assets including exchange-traded funds and corporate bonds.
Kuroda poured cold water on one theoretical option: so-called helicopter money, where the central bank directly funds government spending. He said the law doesn't currently allow for such unorthodox action.
For the Oxford-educated central banker, the market's pressure for greater action poses a challenge to the intellectual framework he established for his easing program. From the get-go, he sought to escape the sort of incremental stimulus steps his predecessor took, trying to get observers to grasp the massive and continuing monetary expansion in his plan. The BOJ's balance sheet now amounts to more than 80 percent of gross domestic product, far more than for the Federal Reserve or European Central Bank.
"A headache for the BOJ is how to make an impact when markets are pricing in their action so much," said Yasuhide Yajima, chief economist at NLI Research Institute. "The BOJ has no option but to add stimulus in July even if Brexit doesn't take place," he said, given inflation's retreat and the yen's jump.

Before it's here, it's on the Bloomberg Terminal.
LEARN MORE