markets
Jordan Puts SNB on Alert for Brexit Turmoil as Probability Rises
By and
SNB stands ready 24 hours a day to intervene if needed

Officials kept deposit rate at -0.75%, further cuts possible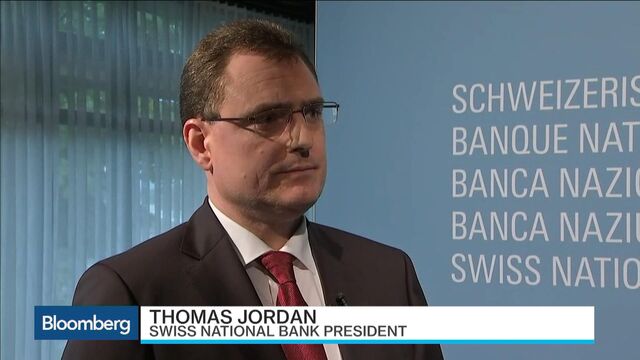 The Swiss National Bank will be ready to react to any turbulence in financial markets following the U.K. referendum even though policy makers don't consider a "Leave" vote as the most likely outcome.
"This is an event that is possible, and the probability increased in the last few days, but the base scenario that we have does not include the Brexit," President Thomas Jordan told reporters in Bern after the central bank kept interest rates unchanged. Nevertheless, "turbulences could arise, and we intend to stabilize the market in case such a situation arises."

The franc, which is typically sought by investors at times of crisis, has appreciated more than 2 percent since the start of the month and hit a 2016 high against the euro on Tuesday. Polls in the U.K. have given "Leave" the lead this week, triggering anxiety about the possibility of Britons choosing to leave the European Union on June 23 that influenced central-bank decisions from Washington to Tokyo.  
While central banks will exchange information to "understand the developments in the market," each institution will have to act on its own to fulfill its mandate, Jordan said in an interview on Bloomberg Television with Guy Johnson. "Except with extreme situations where the global financial stability is at stake, global coordinated measures is something that is very, very seldom."
Confident in BOE
Jordan said he feels "confident" that Bank of England Governor Mark Carney will take the right decisions in case of a vote to leave.
The BOE's Monetary Policy Committee kept its key rate at a record-low 0.5 percent on Thursday and noted its "more intensive supervision" of banks, liquidity facilities and swap lines in preparation for next week's referendum, as well as the tools available to the Financial Policy Committee.

The SNB held its deposit rate at minus 0.75 percent on Thursday, as forecast by economists in a Bloomberg survey. It also reiterated its threat to wage currency-market interventions if needed, saying the franc remained significantly overvalued.
"Fundamentally, we have room to maneuver on these two instruments," Jordan said. "In a first phase, should the situation arise, it will be about stepping in to markets in a stabilizing manner to prevent exaggerations."
The franc erased losses after the policy announcement and traded at 1.08220 per euro at 1:13 p.m. in Zurich. The yield on Swiss 30-year government bonds dropped to minus 0.001 percent on Thursday, falling below zero for the first time.
The SNB also left its target range for three-month Libor unchanged at between minus 0.25 percent and minus 1.25 percent, as expected by economists.
Round the Clock
"We will have a full team that will be following developments as they unfold," Governing Board member Andrea Maechler said. "We will be following developments very closely. We have a global view, we follow markets on a 24-hour basis."
The central bank opened an office in Singapore in 2013 to allow round-the-clock foreign-exchange operations. First tallies of the U.K. vote are due soon after midnight on June 24, with final results due much later in the morning.
Federal Reserve Chair Janet Yellen said Wednesday that a so-called Brexit "is a decision that could have consequences for economic and financial conditions," and "was one of the factors" officials considered when they decided to keep interest rates unchanged. The Bank of Japan on Thursday also refrained from altering its policy stance ahead of the U.K. vote.
For Switzerland, a rise in the franc following a British exit would choke off exports that have just begun to show signs of recovery. The SNB decided last year to give up its currency cap, causing a sharp appreciation of the franc.
Currency Intervention
"In case of Brexit we expect markets to test 1.05 francs per euro -- a level that we expect the SNB to defend fiercely," said Karsten Junius, chief economist at Bank J Safra Sarasin in Zurich.
The SNB doesn't have "any specific exchange-rate target, but we look at the market and the goal will be to have a stabilizing impact on the market in order to avoid" too much volatility, Jordan said in the Bloomberg interview. "We still have the safe-haven situation of the Swiss franc, a very strong Swiss franc."
Economists surveyed by Bloomberg predict interventions will probably be the SNB's first line of defense to rein in any currency strengthening. Some also expect a cut to the deposit rate, already at a record low.
Jordan last admitted to currency purchases at the height of the Greek debt crisis a year ago. The SNB has some 600 billion francs ($626 billion) of foreign-currency reserves, a sum almost equal to the economy's annual output. Growth slowed to 0.9 percent last year due to the strong franc.
New Forecast
The SNB expects economic growth of 1 percent to 1.5 percent in 2016, it said, confirming its March projection. The central bank raised its inflation forecasts for this year and next, predicting the rate will increase from minus 0.4 percent in 2016 to 0.3 percent in 2017. Consumer prices will average 0.9 percent in 2018.
"It's a case of the London blues -- we've seen it in the markets all week, the referendum is casting its shadow as it draws closer," Alexander Koch, an economist at Raiffeisen Schweiz in Zurich, said before the decision. "D-Day is only next Thursday."
— With assistance by Jan-Henrik Foerster, Vogeli Voegeli, Jan Schwalbe, Anooja Debnath, Mara Bernath, Paul Gordon, Brian Swint, Joel Rinneby, Paul Verschuur, Josh Robinson, and Corinne Gretler
Before it's here, it's on the Bloomberg Terminal.
LEARN MORE