Jo Cox, U.K. Lawmaker Who Championed Poor, Refugees, Dies at 41
by
Factory worker's daughter represented district she was born in

Cox campaigned for human rights in parliament and before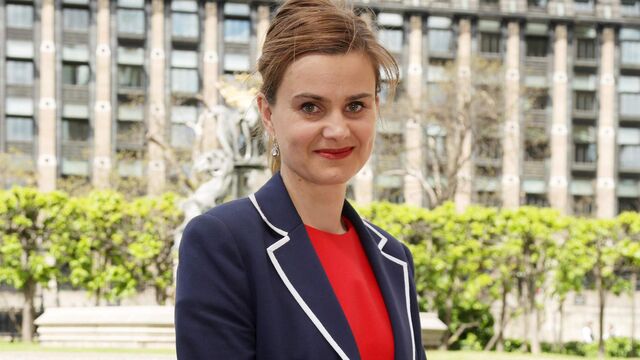 Jo Cox, a British charity worker and campaigner who became a lawmaker last year, has died. She was 41.
Cox, who worked for Oxfam and the Bill and Melinda Gates Foundation before running for Parliament, was shot and killed while working for her constituents in West Yorkshire on Thursday, police said. The mother of two young children, she was the first British lawmaker to be murdered since Ian Gow was killed by the IRA in 1990.
"Jo believed in a better world and she fought for it every day of her life with an energy, and a zest for life that would exhaust most people," her husband, Brendan, said in a statement after her death. "She would have wanted two things above all else to happen now: one that our precious children are bathed in love and two, that we all unite to fight against the hatred that killed her."
The daughter of a factory worker and a school secretary, Cox was born and educated in the northern English district she represented in the House of Commons. She majored in social and political science at Cambridge University, becoming the first member of her family to earn a degree, in 1995. While attending parliament in London, Cox lived on a boat on the River Thames.
Celebrating Diversity
Cox, who would have turned 42 next week, used her first speech to parliament to celebrate the ethnic diversity of her West Yorkshire district and highlighted the benefits of immigration to Britain.
"Our communities have been deeply enhanced by immigration, be it of Irish Catholics across the constituency or of Muslims from Gujarat in India or from Pakistan, principally from Kashmir," she said. "While we celebrate our diversity, what surprises me time and time again as I travel ​around the constituency is that we are far more united and have far more in common with each other than things that divide us."
Cox worked as an assistant to House of Commons lawmaker Joan Walley after leaving university and was a passionate advocate of U.K. membership of the European Union, helping to set up Britain in Europe, a campaigning organization.
Cox then spent eight years working for Oxfam, one of Britain's best respected overseas aid organizations, in roles focused on policy and humanitarian campaigning which included spells in New York and Brussels, according to her website. She also worked as an adviser to former Prime Minister Gordon Brown's wife Sarah on a campaign to end deaths in pregnancy and childbirth.
Gates Foundation
Immediately before she won the district of Batley and Spen for the opposition Labour Party in the 2015 election, Cox worked for the Bill and Melinda Gates Foundation and the Freedom Fund, an organization committed to ending slavery.
Cox, who was chairwoman of parliament's All Party Syria Group, spoke frequently in the House of Commons about human rights and the plight of refugees.
"Jo was dedicated to getting us to live up to our promises to support the developing world and strengthen human rights –- and she brought those values and principles with her when she became an MP," Labour Party leader Jeremy Corbyn said in a statement. "Jo was universally liked at Westminster, not just by her Labour colleagues, but across Parliament."
An avid runner and mountain climber, she took delight in her connection to the river in London and on Wednesday tweeted a picture of her husband and two children in an inflatable boat taking part in a demonstration in favor of EU membership.
Before it's here, it's on the Bloomberg Terminal.
LEARN MORE