Hong Kong Bookseller Breaks Silence on China Detention Saga
by , , and
Account reignites concerns of Beijing's encroachment on city

Police seek interview for account of Lam's months-long ordeal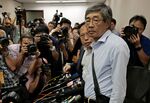 One of five Hong Kong booksellers held in China has stepped forward to detail his months-long detention ordeal, reigniting a case that had drawn international criticism about Beijing's encroachment on the city's autonomy.
The bookseller, Lam Wing-kee, told a news conference Thursday that he was accosted by 11 people after crossing the border into the southern city of Shenzhen in October. After having his personal documents confiscated, he was blindfolded and taken to the eastern city of Ningbo by train, he said. Lam was the first to speak out among five men linked to a Hong Kong bookstore that sold works critical of the Communist Party elite who went missing last year and reemerged on the mainland.
The booksellers' disappearance fanned concerns about China's encroachment on the city's autonomy, guaranteed to the former British colony under the "One Country, Two Systems" principle hammered out when it was returned to China in 1997. U.K. Foreign Secretary Philip Hammond in a February report to Parliament described the case as a "serious breach" of the handover deal. Hong Kong law bars mainland police from operating independently in the city.
"This is not just about me," Lam said Thursday. "It's about Hong Kong and Hong Kong people's demand for freedom. The Chinese government has forced the Hong Kong people into a dead end. This is our bottom line." Lam said he had been detained on the way to visit his girlfriend on the mainland.
The Hong Kong government said police would attempt to contact Lam "to understand more and will take appropriate follow-up action." Police "took the initiative" to meet Lam at the control point upon his return Tuesday, the government said. Lam requested that police cancel his missing-person case and said he didn't need any assistance from authorities.
Abduction Claims
The booksellers' case has been a rallying point for local pro-democracy activists wary of growing communist influence, some of whom have urged independence from China. Most attention has focused on Lee Bo -- also called Lee Po -- who vanished from Hong Kong in December, sparking allegations that he had been abducted. Gui Minhai, who holds a Swedish passport, disappeared from Thailand in October and re-emerged in China in January, saying in a televised confession on state-controlled television that he had turned himself into authorities over a fatal 2004 traffic accident.
Lam said had been allowed to return to Hong Kong to collect bookshop records on the phone numbers and addresses of customers. Another shop that sells books banned on the mainland, the Hong Kong Reader Book Store in Mong Kok, said on its Facebook page Friday that it would no longer keep records on its patrons.
Since the disappearances, Hong Kong's government has repeatedly said that city police were investigating the case. It has also said that any suggestion that Lee was involuntary removed to the mainland "remains speculative."
'Scripted' Confession
Lam also provided a confession broadcast on Chinese television, where he said that some of the books had been fabricated. On Thursday, he told reporters it had been scripted, edited and supervised by a director, according to local media outlet RTHK. He was joined at the news conference by Democratic Party lawmaker Albert Ho Chun-yan.
"This just confirms a long-held view that when you see these kinds of confessions and people telling stories, that it is all bogus," said Michael Davis, a Hong Kong University constitutional law professor.
China has a history of televising confessions. In January, the Swedish co-founder of a legal advocacy group in Beijing admitted on video to harming the Chinese government and "hurting the feelings" of the Chinese people before being released and deported.
Crossing Border
Police in the southern Chinese province of Guangdong told their Hong Kong counterparts on Feb. 4 that booksellers Lam, Lui Por and Cheung Chi Ping -- all of whom disappeared while on the mainland in October -- were being probed in connection with Gui. All five booksellers have now returned to Hong Kong with the exception of Gui, and have traveled back and forth across the border, according to newspaper reports. 
Lui returned to Hong Kong in March and recrossed the border just hours after asking local police to stop investigating his "missing person" case. Lee also returned to Hong Kong in March and told police that friends helped him travel surreptitiously to China to assist in an investigation and that he wasn't abducted.
Lam said that he had spoken to Lee when they were both detained in China, and that Lee told him that he had been kidnapped in Hong Kong. Lee disputed that account in a Facebook post Friday, saying he never told Lam how he got to the mainland and never said he was taken away unwillingly.
Lam said he wasn't worried about his safety and that he had no plans to return to the mainland.
Before it's here, it's on the Bloomberg Terminal.
LEARN MORE