Global Central Banks Sound Brexit Alarm as 'Leave' Jitters Grow
by and
Bank of Japan governor says central bank can respond if needed

Bank of England reiterates its warning as rates kept on hold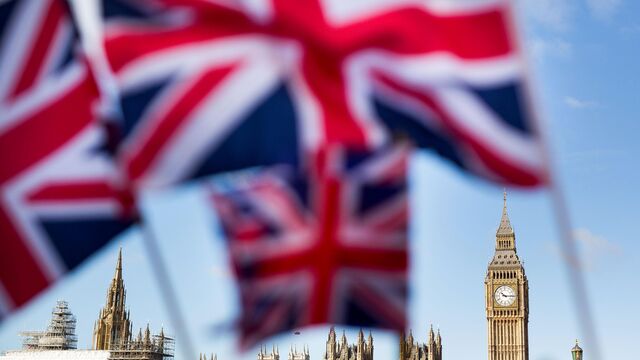 Global central banks sounded the alarm over the risks posed by a British departure from the European Union, as polls continued to show the "Leave" campaign ahead with a week to go before the June 23 referendum.
In a 15-hour relay of comments, the chiefs of the U.S. Federal Reserve the Bank of Japan, the Bank of Canada and the Swiss National Bank all cited the referendum on EU membership as being potentially disruptive to the global economy. The BOJ said central banks are in contact over a so-called Brexit, and the Bank of England repeated its warning on the risks in its final monetary-policy decision before the vote.
We are "closely exchanging opinions with the Bank of England and other central banks," BOJ Governor Haruhiko Kuroda told reporters in Tokyo on Thursday, adding that his institution can respond to any potential surge in dollar-funding costs. "We want to coordinate closely with domestic and overseas authorities and carefully watch how the vote will affect the international financial market and the global economy, including Japan."
With almost all recent polls showing "Leave" in the lead, investors are focused on how financial guardians at the Fed, European Central Bank and BOJ can stem market panic if the U.K. takes such a step. Officials stress that liquidity facilities left over from the crisis era are available, and central bankers in countries like Switzerland and Denmark say they're ready to act to stabilize their currencies.
Turbulence Possible
It is "possible that we'll have turbulences" in reaction to a Brexit, SNB President Thomas Jordan said in a Bloomberg Television interview in Bern. "We have a very good exchange among all major central banks so that the information is here, so that we understand the developments in the market."
In the first instance, officials could act in global markets to prevent any "exaggerations," Jordan said. ECB Governing Council member Ewald Nowotny said in Vienna on Thursday that swap agreements between central banks will ensure lenders have access to liquidity during any "disturbances on the market."
"We'd expect major central banks to intervene to push back against this volatility," Steven Barrow, a strategist at Standard Bank Group Ltd. in London, said in a note to clients. "Policy makers will feel they already have the tools in place to try to limit wider disruption."
The most recent poll, by Ipsos Mori for the Evening Standard newspaper, found 53 percent of respondents will vote to leave, compared with 47 percent for "Remain," excluding those who didn't yet know.
Black Hole
The "Leave" campaign argues that a transition out of the EU would be smooth, while "Remain" warns of dire economic consequences. Chancellor of the Exchequer George Osborne said on Wednesday that a "black hole" in public finances would open due to reduced trade and investment. The International Monetary Fund is due to release a report on the U.K. on Thursday in Washington.
"The result is on a knife-edge," Morgan Stanley economists Jacob Nell and Melanie Baker wrote in a note to clients, raising their probability of a Leave vote to 45 percent from 30 percent. Still, they said they "expect a late swing in the polls to support an ultimate Remain victory."
The pound dropped toward a two-month low as the BOE kept its key interest rate on hold at 0.5 percent and reiterated its warning that a Brexit could harm the economy.
"A vote to leave the European Union could materially affect the outlook for output and inflation," the Monetary Policy Committee said. "Through financial market and confidence channels, there are also risks of adverse spill-overs to the global economy."
Governor Mark Carney earlier fought back at accusations from Conservative Party supporters of an EU exit that the BOE hasn't provided balanced analysis, and may seek to influence the discussion in its final days. The central bank released a letter from its governor to Bernard Jenkin after the lawmaker criticized his interventions.
Weaker Pound
Carney won backing for his stance from U.K. Prime Minister David Cameron on Thursday, who stressed the central bank's independence.
As the risks of Brexit mount, U.K. rate-cut expectations are on the up. Traders are pricing in a greater than 25 percent chance that the BOE will cut borrowing costs by its July meeting, according to data compiled by Bloomberg using swaps on the sterling overnight index average.
Carney's U.S. counterpart Janet Yellen said Wednesday that concern over a possible Brexit played a part in the Federal Reserve's decision to hold off from raising rates. Japan's central bank refrained Thursday from adding stimulus even as it weakened its outlook for inflation. Global equities have lost more than $2 trillion over the past week.
Yield Plunge
"It is a decision that could have consequences for economic and financial conditions in global financial markets," the Fed chair said during a press conference.
Kuroda, asked by reporters about the 10-year Japanese government bond yield reaching minus 0.2 percent, blamed the U.K. referendum, saying that while BOJ easing had contributed to a longer-term decline, Brexit was "behind the recent plunge."
"That's making international financial markets somewhat unstable, spreading the impact to the JGB market as well as the German sovereign-debt market," he said.
The vote "poses new risks at the global level that could mean a shift in view," Bank of Canada Governor Stephen Poloz said in a speech on Wednesday. He later told reporters that "we are standing ready," and markets will likely react no matter what the outcome is.
Safe Haven
The SNB, which oversees a currency popular with safe-haven investors, pledged to intervene in the foreign exchange market if needed to cap franc gains. The Swiss currency has appreciated more than 2 percent this month and hit a 2016 high against the euro on Tuesday.
"The imminent U.K. referendum on whether to stay in the European Union has already caused volatility on the financial markets to rise," Jordan said. "Uncertainty emanating from political events could escalate, hampering economic development."
He noted the SNB's 24-hour operation -- which includes a trading desk in Singapore. Board member Andrea Maechler, in charge of markets, said her staff will be "ready to react" on the night of June 23.
"We will have a full team that will be following developments as they unfold," she said.
Before it's here, it's on the Bloomberg Terminal.
LEARN MORE