Europe's Largest Banks Slump to Record on Brexit Concerns
by and
Credit Suisse, Deutsche Bank both at record lows, data shows

British surveys suggest voters favor Britain leave the EU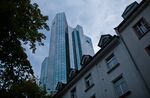 Europe's largest banks slumped, with Deutsche Bank AG and Credit Suisse Group AG hitting new lows, after the Federal Reserve's decision to scale back its interest-rate outlook partly because of risks tied to Brexit, fueled concerns about Europe's economic outlook.
"The trajectory of European banks is really worrying," said Lorne Baring, a fund manager who helps oversee $500 million at B Capital in Geneva. "If banks are a main indicator of the health of a region, it gives you another reason to think 'what the hell is going on in Europe?"'
Deutsche Bank, Europe's largest investment bank, dropped 3.5 percent to 12.83 euros at 2:27 p.m. in Frankfurt after hitting the lowest since at least 1992, when Bloomberg first started compiling data. Credit Suisse slumped as much as 5.3 percent, bringing losses this year to about 48 percent. The 39-member Bloomberg Europe Banks and Financial Services Index fell 2 percent, with Spanish and Italian banks among the worst performers.
Europe's banks have been hit by a renewed market selloff with investors increasingly worried about the U.K. voting to leave the European Union in a referendum next week. That's adding to lenders' woes, with Credit Suisse Chief Executive Officer Tidjane Thiam and his Deutsche Bank counterpart John Cryan both struggling to restore investor confidence and profitability, battered by volatile markets, negative interest rates and a slump in trading revenue.
'Very Fragile'
"Credit Suisse and Deutsche Bank are very fragile, they're in restructuring mode and have capital issues," said Tomasz Grzelak, an analyst at Main First. "Income at investment banks is very sensitive to downward market movements. While equity markets fall, companies may not issue capital or use investment-banking services, which has an immediate impact on the revenues of the securities units."
Italian banks have also suffered as they are perceived as riskier than some European peers because of the weight of non-performing loans and holdings of government debt. UniCredit SpA dropped as much as 4.1 percent on Thursday. Italy's largest bank, which is under pressure to raise capital buffers and appoint a new CEO, has lost about 57 percent of its value this year.
UniCredit's 1 billion euros of 6.75 percent additional Tier 1 bonds, the first debt securities to take losses if a bank runs into trouble, fell 2 cents to 78 cents, the lowest since Feb. 16. Deutsche Bank's 1.75 billion euros of 6 percent AT1s fell 1 cent to 79 cents.
'Big Decisions'
"In theory, they have assets they could sell but the question is do they want to?" said Roberto Bella, a credit analyst at Robeco Nederland BV, when commenting on UniCredit. "If they do come out with a rights issue, that will be good for the bonds. But everything is taking longer -- it is taking longer to find a new CEO so it will take longer to take big decisions."
Growing worries over a potential British exit have pushed investors into havens such as German bonds. Fed Chair Janet Yellen said on Wednesday that the U.K. referendum was a factor in the U.S. central bank's decision to hold interest rates steady at its meeting in Washington.
Some 53 percent of voters are in support of leaving the EU with 47 percent against, according to a poll by Ipsos Mori for the Evening Standard newspaper released on Thursday. It excluded the undecided. The telephone poll of 1,257 adults, the latest in a string of surveys showing a steady lead for anti-EU campaigners, was conducted from June 11 to June 14.
Deutsche Bank Chairman Paul Achleitner said at a dinner on Wednesday night in New York that Brexit would be an "economic disaster for the U.K. and a political disaster for the EU." The German lender could be among European banks moving staff out of London if Britain decided to leave, sparking "very significant" restructuring charges, Luke Ellis, president at Man Group Plc, told Bloomberg Television's Tom Keene and Francine Lacqua on Thursday.
"Brexit fears are one reason and very eye-catching," said Boris Boehm, who helps manage 2.1 billion euros ($2.4 billion), including Deutsche Bank shares, at Aramea Asset Management in Hamburg. "But I think it's an accord of general problems" such as Fed policy and the condition of the world economy, he added.
Before it's here, it's on the Bloomberg Terminal.
LEARN MORE