End Is Nigh for Japan Yield as Investors Chase 40-Year Toward 0%
by and
Negative yields shatter view investors would stop buying at 0%

Brexit drives global demand for the haven of government debt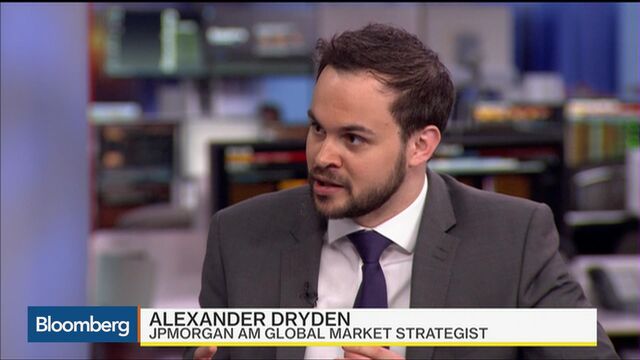 Japan's sovereign debt rally will push yields on the nation's 40-year bonds, its longest maturity, below zero in about two months if it keeps up at the current pace.
The 40-year yield dropped to a record 0.195 percent Friday, falling from about 0.4 percent in the middle of April. Ten-year yields were at minus 0.14 percent after a slide to a record minus 0.21 percent the day before that shattered speculation investors would stay away after they pushed below zero.
"Yields don't matter" to investors chasing the market, said Yoshiyuki Suzuki, the head of fixed income in Tokyo at Fukoku Mutual Life Insurance Co., which has $64 billion in assets. "We're going into a negative-yield world. It's very difficult to say there will be a limit to how low yields can go."
Japan's bonds are joining a surge in government debt all over the world as polls show voters in the U.K. are leaning toward leaving the European Union, driving demand for the relative safety of fixed-income securities. Federal Reserve Chair Janet Yellen said Wednesday slow productivity growth and aging societies may keep interest rates at depressed levels. The Bank of Japan said Thursday inflation in the nation may be zero or negative.
A BOJ market group including investors said "extremely'' negative yields of short to mid-term JGBs may be due to "active purchases" by overseas investors. Foreign ownership of Japan's sovereign notes in the first quarter rose 12 percent to 110 trillion yen ($1 trillion), the highest on record, according to BOJ data released Friday.
The following four charts show 40-year yields are headed for zero, Japan's bonds are having their best first-half performance in more than 20 years, government securities are trouncing stocks, and debt is rallying in tandem with the U.S. and Germany.
CHART 1: Forty-year yields will be zero in about two months if yields keep falling at the current pace.

CHART 2: Japan's government bond market has returned 6.9 percent in 2016, headed for the best first-half performance since 1995.

CHART 3: While bonds are surging, the Topix index of shares has declined almost 20 percent this year.

CHART 4: In the global bond rally, yields in Japan, Germany and the U.S. are all headed south.

Before it's here, it's on the Bloomberg Terminal.
LEARN MORE