Don't Look Now But Beaten-Down Coal May Be Heating Up
by
U.S. coal production is up 17% since bottoming in April

Natural gas rally, hot summer forecast boost coal's prospects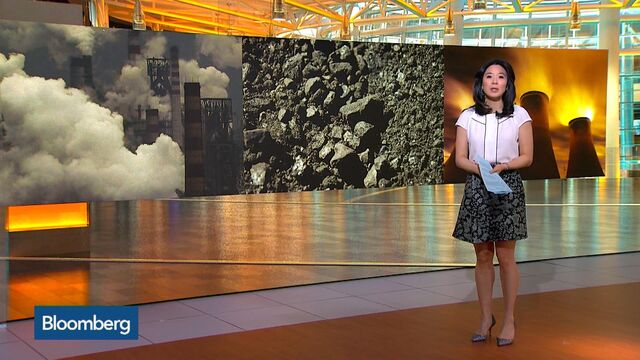 Has coal gotten so bad it's getting good?
BB&T Capital Markets analyst Mark Levin thinks so. With U.S. production falling earlier this year to its lowest level in a generation, investors are betting the worst is over, Levin said Wednesday in a note to clients. Some coal stocks are rallying as a recovery in natural gas prices brings the power-plant fuels closer to parity.
"Markets are a forward-looking mechanism, and what they are saying right now about coal in 2017 is bullish," Levin said.

Coal bulls face daunting challenges. Miners unearthed less of the fuel in the first quarter than any time since 1981, according to the U.S. Energy Information Administration. At current output levels, they'll extract 630 million tons this year, Levin wrote, down 30 percent from a year ago -- coal's worst 12 months in decades. No region has escaped the collapse as gas cements its place as the country's top fuel for electricity production.
Still, gas futures have climbed almost 60 percent since early March. That has made coal mined in the Powder River Basin of Wyoming and Montana and, to a lesser extent, in the Illinois Basin, more cost competitive, said Andrew Cosgrove, an analyst at Bloomberg Intelligence.
Since early April, weekly U.S. coal production is up 26 percent, the EIA said Thursday.

Then there's the weather. With the emergence of gas-fired power plants, coal is being used more often at generators that only run when electricity demand is high, Levin said. Mild weather this past winter depressed demand, driving up coal stockpiles at power plants. A hot summer could change all that. 
"With coal now a load-following fuel, weather becomes critically important," Levin said. "May was solid; June has started off positively."
And, investors see the recent spate of coal bankruptcies -- which included Peabody Energy Corp., Arch Coal Inc. and Alpha Natural Resources Inc. -- leading to the permanent closure of more mines, reducing the oversupply, Levin said.
"The sentiment back in January was about as low as it could possibly get," Cosgrove said. "Some people invest off that premise and you never know. Coal's been beaten up for the better part of six years. Any green shoots whatsoever, people may choose to hang their hat on that."
Even if coal's stars align, the sector may not come "roaring back," Cosgrove said. Still, any upturn would be an improvement.
Before it's here, it's on the Bloomberg Terminal.
LEARN MORE