China's Midea Begins Cash Offer for German Robot Maker Kuka
by
Chinese home-appliance maker aims for more than 30% stake

Midea plans to help Kuka expand into robots for consumers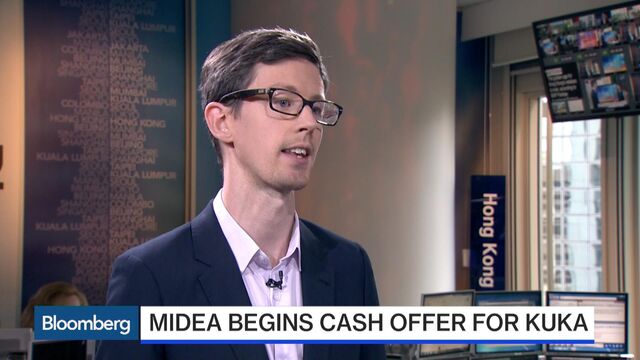 Midea Group Co., China's biggest appliance manufacturer, began a tender offer to raise its stake in Kuka AG that values the industrial robot maker at 4.6 billion euros ($5.2 billion) and has provoked calls from within the German government for an alternative European investor.
Midea is offering 115 euros a share, contingent on it being able to increase its stake to at least 30 percent, the Foshan, China-based company said in a statement on Thursday. It pledged to help Kuka beat a 2020 sales target by broadening the product range to tap the full extent of the Chinese market as well as expanding into household robots.
The deal has triggered concerns from the German government about the longer-term intentions of state-backed Chinese investors and overshadowed a visit to China earlier this week by Chancellor Angela Merkel. Economy Minister Sigmar Gabriel is leading a German charge to find a European suitor, courting potential buyers that have included ABB Ltd. and Siemens AG, a government official said earlier this month. Efforts to find regional investors are continuing, according to Deputy Economy Minister Matthias Machnig.
"The chances of the deal going through are rather high,' said Sebastian Growe, an analyst at Commerzbank AG, who rates Kuka shares hold. "There's nothing that speaks against it from today's perspective. It's unlikely that a white knight will come along. You can never rule it out but it's improbable."
No Delisting
Kuka shares rose 2 percent to 108.20 euros in Frankfurt trading as of 12:32 p.m. They have gained almost 30 percent since the deal was first proposed May 18.

Midea reiterated today that it has no plans to delist Kuka shares or seek control. Kuka, which is based in Augsburg in the south of Germany, said it is reviewing the offer and will start to negotiate. The German company, which has 14 days to respond, will submit an opinion to shareholders once the review is completed, it said in a separate statement Thursday.
QuickTake: China Inc.'s Shopping Spree
Midea will be able to help Kuka exceed its 2020 sales goal of 4 billion euros to 4.5 billion of which 1 billion euros is expected to come from China, the Chinese company said. The two companies can collaborate on logistics and supply chain, allowing cost savings as well as boosting revenue from warehouse and distribution robots.
'Unlock' the Potential
"We want to support Kuka's growth and unlock together the huge growth potential of the Chinese market," Midea's Chairman Paul Fang said in the statement. "Cutting-edge technology from Germany and Midea's long-term experience and network in the Chinese market will allow us to benefit from the growth opportunities across different industries in China."
The Chinese appliance maker plans to raise a loan of more than 4 billion euros, said two people familiar with the matter, who are not authorized to speak publicly and asked not to be identified. Industrial and Commercial Bank of China Ltd. is involved in the financing through Frankfurt and Paris branches, they said.
Germany is still seeking a European investor to buy Kuka but wouldn't oppose China's taking a minority holding in the robot maker, government officials said on Tuesday. The government wouldn't stand in the way of a Midea stake of 49 percent or less, if suitable buyers in the region can be found for the rest of Kuka, said the officials, who asked not to be identified discussing private deliberations.
Initial Talks
"Midea has done initial negotiations with other Kuka shareholders and it would not have made the public offer if it was not confident that this price would get it the shares that it wants," said Juliette Liu, an analyst at Yuanta Securities Co.
Kuka's largest shareholders are currently Friedhelm Loh and Voith GmbH, who between them own almost a third of the company.
German newspaper Handelsblatt reported on Monday that Midea may be satisfied with a holding of 49 percent. Limiting the size of the stake would be difficult under German law because any takeover offer must be extended to all shareholders. One option would be for Midea to agree to sell any stake exceeding a certain threshold following the completion of the bid.
So far no competing bid has emerged for Kuka. Siemens Chief Executive Officer Joe Kaeser has said the German engineering company isn't interested. ABB would consider making a rival bid should it be solicited by Kuka, the Wall Street Journal reported on Tuesday, citing unidentified people familiar with the matter.
Before it's here, it's on the Bloomberg Terminal.
LEARN MORE