markets
Five Things You Need to Know to Start Your Day
Get caught up on what's moving markets.
By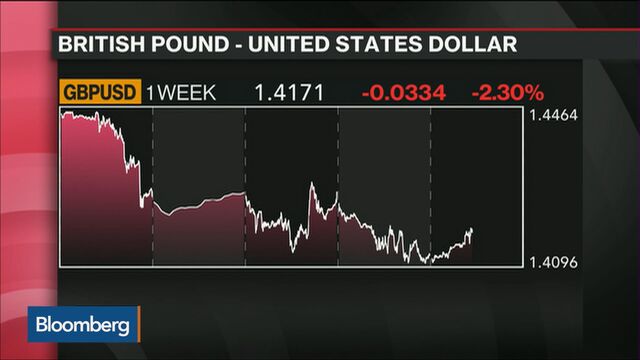 Want to receive this post in your inbox every morning? Sign up here.
Lots of central bank decisions, lots of record low bond yields, and more polls show a lead for 'leave' in the Brexit referendum. Here are some of the things people in markets are talking about today.
Central banks
The Federal Reserve held rates unchanged yesterday, the Bank of Japan held rates unchanged overnight, the Swiss National Bank held rates unchanged this morning, and the Bank of England is expected to hold rates unchanged at 7:00 a.m. ET. While all of this sounds very boring, markets are moving this morning on the comments that accompanied the decisions, particularly those made by Fed chair Janet Yellen in her press conference where she suggested that interest rates may remain lower for longer. Market-implied odds of a rate hike by the Fed at its July meeting have now dropped to 5.9 percent and do not rise higher than 50 percent at all on the forecast horizon through the January 2017 meeting. 
How low can they go?
Global developed market bonds continue to rally, with Japanese and German government bond yields falling to record lows. This morning, the Swiss 30-year bond yield flirted with negative territory, while the same tenor U.S. Treasury yield fell to the lowest in 16 months. In the U.K., with the referendum on EU membership just a week away, gilt yields reached an all-time low. One of the few places where yields are rising is in the euro periphery as risks from the Brexit vote mean investors are dusting off their euro crisis playbooks.
Brexit risks
The chances of Britain voting to leave the European Union continue to rise, with another poll published this morning putting the 'leave' side well ahead. The pound continues to slide, dropping toward a two-month low this morning as the risk of a Brexit weighs ahead of the Bank of England decision. The governor of the bank, Mark Carney has written a robust defence of his comments about the impact of a decision to leave the EU on the U.K. economy following accusations that he was breaking government rules by speaking publicly on the matter. Despite the moves in the pound and the widespread commentary on the issue, some traders are not buying into the hype. 
Markets slip
Yesterday's rally in Asia was undone overnight as the MSCI Asia Pacific Index dropped 1.1 percent with Japan's Topix index sinking 2.8 percent and the yen rallying through 104 to the dollar following the Bank of Japan's decision not to add new stimulus at its meeting. In Europe, the Stoxx 600 Index was 0.6 percent lower at 6:13 a.m. ET, with banks getting hit hardest and Deutsche Bank AG dropping to a record low. S&P 500 futures were 0.7 percent lower. 
Coming up...
It's Thursday, so that means it is time for weekly initial jobless claims data due to be released at 8:30 a.m. ET, with expectations for 270,000 — a small increase on last week's 264,000. Also coming today is CPI for May, also at 8:30 a.m. ET. Bank of England Governor Mark Carney speaks in London at 3:00 p.m. ET.
What we've been reading 
This is what's caught our eye over the last 24 hours.
Before it's here, it's on the Bloomberg Terminal.
LEARN MORE