Brexit Stress Mounts in Funding Markets as Dollars Become Scarce
By and
Rising credit risk makes it costlier for banks to get funding

Central bank swap lines will ultimately limit any fallout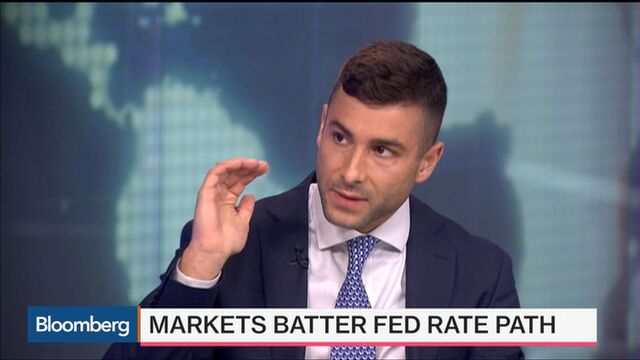 Money markets are flashing warning signals as rising credit risk, spurred in part by fears of Brexit, makes it harder for big banks to obtain U.S. dollar funding.
A gauge of bank borrowing costs -- the FRA/OIS spread -- hit the most extreme level since 2012 on Thursday, and the premium to swap foreign currencies into dollars reached the highest since late last year as deteriorating investor sentiment ahead of Britain's June 23 referendum on European Union membership strained the financial system.
The latest bout of turmoil illustrates how regulatory changes introduced after the financial crisis are leading to greater volatility in episodes of stress. Banks, facing higher costs to make markets, aren't stepping in as they did in the past to take advantage of arbitrage opportunities in funding markets, leading to bigger price movements.

In times like these, "spreads are going to be higher for a given level of anxiety" than they were in the past because compliance considerations have made traders more risk-averse, said Lou Crandall, chief economist at Wrightson ICAP LLC in Jersey City, New Jersey. That's part of the trade-off involved in making the system safer, he said.
Janet Yellen
Federal Reserve Chair Janet Yellen said Wednesday that the possibility of the U.K. exiting the EU had factored into the U.S. central bank's decision not to raise interest rates this month.
Financial markets have been battered in recent days as polls showed the "Leave" campaign pulling ahead, though stocks and the pound erased losses Thursday after the killing of a U.K. lawmaker coincided with a drop in odds that Britain would vote to depart.
Banks around the world are active in dollar lending due to the greenback's dominant status in global trade invoicing and the outsize share of dollar-denominated assets held in global investment portfolios.
The average cost to swap euros, Japanese yen, British pounds and Swiss francs into dollars for three months rose to 44 basis points, or 0.44 percentage point, above the London interbank offered rate Thursday, the highest since December. At year-end, a combination of the Fed's first rate increase in nearly a decade and banks paring down balance sheets to meet year-end regulatory requirements led to spreads as high as those seen during the European banking crisis in 2011.
Lehman Crisis
"There is a scarcity, similar to what happened during the Lehman event and European crisis, of dollars," said Priya Misra, global head of interest-rate strategy at TD Securities (USA) LLC in New York, referring to the collapse of U.S. investment bank Lehman Brothers Holdings Inc. in 2008. "It might be on a smaller scale than Lehman but the essence is very similar, where you have a shortage of one currency."
Share prices in some of Europe's largest banks fell to record lows Thursday as the cost to insure against default on their debt rose.
Top officials from the Bank of Japan, European Central Bank and Swiss National Bank said Thursday they could provide liquidity backstops to markets to contain worsening funding stresses in the event that the U.K. votes to leave the European Union.
"These big central banks that matter now have these unlimited swap lines, and that is going to put a bound on how bad things can get," said Zoltan Pozsar, director of U.S. economics at Credit Suisse Securities (USA) LLC in New York. "You are going to learn about the existence and the importance and the stabilizing impact of these facilities when they are tested."