Brexit Campaign on Hold for Second Day After Lawmaker Murder
by , , and
Merkel calls for respect for differing political views

Cameron, Corbyn to make joint statement in Cox's district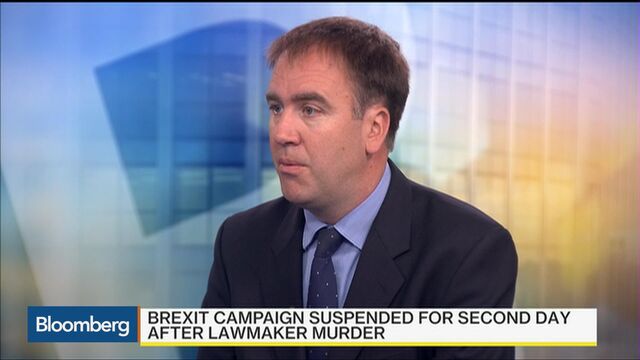 Campaigning over whether the U.K. should quit the European Union was suspended for a second day on Friday after the murder of Labour lawmaker Jo Cox, an advocate for voting to stay in next week's referendum.
Events planned by the two main campaign groups were canceled, while publication of opinion polls and an International Monetary Fund report were delayed until the weekend as tributes were paid to Cox. Prime Minister David Cameron, Chancellor of the Exchequer George Osborne and Bank of England Governor Mark Carney all canceled or shortened appearances on Thursday.

Cox, 41, was shot dead in the town of Birstall, northern England, in the early afternoon on Thursday. She was a fervent supporter of Britain remaining in the EU, as well as a champion of the poor and of Syrian refugees. Her murder followed an increasingly acrimonious debate over the referendum, with opinion polls putting "Vote Leave" ahead by several percentage points.
The repercussions of her death spread beyond U.K. borders, with Italian Prime Minister Matteo Renzi and U.S. presidential candidate Hillary Clinton among those commenting. German Chancellor Angela Merkel said the killing underlined the need to engage with respect with others of differing political views, urging an end to the "total exaggeration and radicalization" of political debate.

"We know how important it is to establish boundaries in one's choice of language and argument as well as the choice in a sometimes disparaging way of arguing -- and to engage with respect those who think and believe and love differently," Merkel told reporters in Berlin. "Politics can't solve everything, but it can contribute to ensuring in what manner we engage in disagreement -- and this terrible murder reminds us all always to take this to heart."
While campaigning was suspended, Cameron's office said he'll make a joint appearance on Friday with Labour Party leader Jeremy Corbyn in Cox's electoral district. Despite supporting the same outcome in the referendum, the two leaders have not shared a platform during the campaign. Cameron's Conservatives also said they won't contest Cox's seat in the special election to replace her.

IMF
The prime minister is due to appear on Sunday evening on a special referendum edition of BBC television's "Question Time" show, following a morning appearance by his pro-Brexit justice secretary, Michael Gove, and by Corbyn on the BBC's "Andrew Marr" show. 
On Saturday, the International Monetary Fund plans to release a report on the implications of the U.K. leaving the EU, while the polling company BMG will publish a referendum poll, both after being delayed by a day. The suspension of campaigning lifted the pound which fell in recent weeks as polls tightened.
"Membership in the EU has made the U.K. a richer economy, but it has also made it a more diverse, more exciting, and more creative country," IMF Managing Director Christine Lagarde said Friday in a speech in Vienna. "I have always admired the United Kingdom for it openness to other nationalities and foreign cultures, and I find it hard to believe that attitudes have changed in such a short time."
Cox's killing was the first of a member of Parliament in a quarter of a century, since the days of Irish Republican terrorism. She was elected to the House of Commons last year and had taken an active part in the campaign to keep Britain in the EU. On Wednesday, her husband, Brendan, had taken their two young children out onto the River Thames to fly an "IN" flag from a motorboat.
Respect for Politicians
Clarke Rothwell, an eyewitness to Cox's killing, said he had seen a man shoot and then stab her. "The words I heard him say was 'Britain First' or 'Put Britain First'," Rothwell said in a BBC television interview. "He shouted it at least twice."

Dee Collins, West Yorkshire Police's temporary chief constable, said in a televised news conference that police were "not in a position to discuss any motive." She said a 52-year-old man had been arrested and police weren't looking for anyone else after recovering a number of weapons. The BBC said the man had been named locally as Tommy Mair.
"It puts into stark relief the status of our politicians and how easy they are to hold in low esteem," Andrew Russell, professor of politics at Manchester University, said Friday in a phone interview. "But actually almost everybody who knows any politician knows that they put themselves in the front line for a sense of public service. This might be an opportunity to redress the balance a little bit on what the public esteem of politicians might be."
Tributes poured in for Cox from politicians of all parties, with Cameron saying "we've lost a great star"and Corbyn describing her as "an exemplary MP."
Clinton
The led news bulletins and front pages across Europe. Italy's Renzi described the killing as a "horrible act of hatred," while EU Commission President Jean-Claude Juncker said he was "deeply shocked."
Clinton said she was "horrified" and called on the two democracies to stand together against hatred and violence. "This is how we must honor Jo Cox -- by rejecting bigotry in all its forms, and instead embracing, as she always did, everything that binds us together," she said.
Cox was killed outside the venue for one of her regular sessions at which constituents in the town of Birstall can seek advice and help. The last member of Parliament to be killed was Ian Gow, who was murdered by an Irish Republican Army bomb at his home in Sussex in 1990.
Labour won a by-election held in Tooting, south London, on Thursday with an increased majority. Rosena Allin-Khan was elected to replace Sadiq Khan, who resigned when he was elected as mayor of London. She chose not make the customary victory speech, instead paying tribute to Cox.
"She was a proud and passionate campaigner who will be desperately missed," Allin-Khan said. "Jo's death reminds us that our democracy is precious but fragile -- we must never forget to cherish it."
Before it's here, it's on the Bloomberg Terminal.
LEARN MORE