Bond Traders Seek Greater Fools as Global Yields Extend Plunge
by and
World government debt in best start to any year since 1995

Bond rally 'like a game of musical chairs,' TD's Goldberg says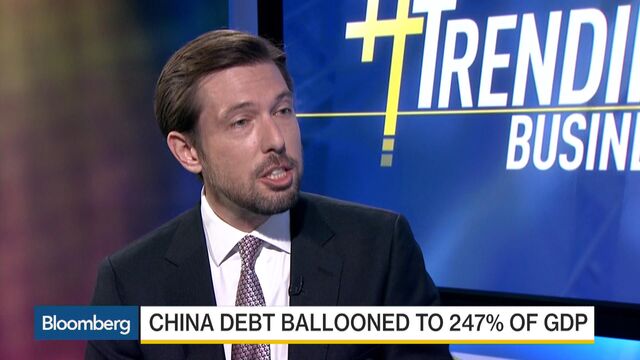 To make money in today's bond market, keep finding the greater fool.
That's the strategy driving traders to bid up global sovereign debt even as yields fall to record lows and as over $8 trillion of government securities yield less than zero. Investors who buy bonds with negative yields aren't just willing to lose money as they seek safe havens -- they're hoping there will always be another trader ready to buy at a higher price.

"The rally in rates is like a game of musical chairs -- it only works until the music stops," said Gennadiy Goldberg, interest-rate strategist at TD Securities LLC in New York. "If yields ever increase sharply, investors will take enormous losses because they don't have buffers. So, they're playing with fire."
Japanese, German and Swiss bond yields have fallen to record lows as government debt around the world extends its best start to a year in more than two decades. Demand for sovereign bonds rose after the Federal Reserve on Wednesday held rates steady and lowered its projections for the path of policy tightening. The Bank of Japan on Thursday kept monetary policy unchanged and said inflation in the nation may be zero or negative.
The benchmark 10-year Treasury note yield rose one basis point, or 0.01 percentage point, to 1.58 percent as of 5 p.m. in New York. It touched 1.52 percent, the lowest intraday level since August 2012, according to Bloomberg Bond Trader data. The yield reached a record-low 1.38 percent in July 2012.
Negative Yields

Global government debt has gained 5.5 percent this year as of Wednesday, the most for any comparable period since 1995, according to Bank of America Corp. indexes. The rally has defied economists' forecasts that yields would rise this year.
Concern about slowing global economic growth and a potential U.K. exit from the European Union is sending benchmark 10-year yields to unprecedented levels in some countries. Japan's tumbled to minus 0.21 percent. Australia's fell below 2 percent, and Germany's plunged below zero. Even Switzerland's 30-year yield briefly turned negative, as sub-zero yields, once considered unthinkable, become commonplace. 
Yields have plunged as central banks abroad hold rates near zero and maintain or boost bond-buying stimulus programs. Ten developed-market sovereign issuers now carry negative five-year yields, according to data compiled by Bloomberg.
More than $100 billion of corporate bonds, from French drugmaker Sanofi to Royal Dutch Shell Plc., now yield less than zero as well, according to data compiled by Bloomberg. The European Central Bank this year incorporated corporate debt into its bond-buying strategy, adding another potential buyer to the market for company securities and further boosting demand.
"It makes sense to a point," said Jonathan Rick, a New York-based interest-rate derivatives strategist at Credit Agricole CIB. "But in theory, at some point the 'greater fool' fails when yields become too negative."
Before it's here, it's on the Bloomberg Terminal.
LEARN MORE