markets
Bears' Winning Streak Might Be Good News for U.S. Stocks
The S&P may be about to snap its long run of declines.
By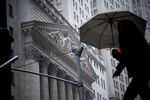 After flirting with record highs only last week, the S&P 500 is on course to fall for a sixth day straight.

Although the bears are gaining momentum, the equity index's longest streak of losses in 10 months may be signaling a turnaround for U.S. stocks, according to Bespoke Investment Group, even while bullish sentiment spends its 33rd week languishing below 40 percent.
According to the most recent survey by the American Association of Individual Investors (AAII), bearish sentiment surged this past week, climbing to 38 percent from 28 percent the week before. Bespoke Investment Group points out that there hasn't been that large an increase over a one-week period since Feb. 11. 


Yet don't bet on equities' losing streak persisting, says George Pearkes, a strategist at the firm. "We view AAII as a contrarian indicator: When bearishness is high or bullishness low, it typically means that the crowd has moved out of the market," he said in an interview. "Specific concerns like Brexit, Orlando, or the Fed can drive this, and we don't know exactly what's to blame. But AAII respondents tend to be reactive, rather than proactive; they follow price rather than leading it."
Bespoke says that although bearish sentiment has jumped, it's still comfortably lower than the near 50 percent readings seen in January and February of this year, when the stock market was seeing major declines. If investors bought the S&P 500 the last time we saw this big of a jump in bearish sentiment, they would have done quite well. The S&P 500 is up more than 12 percent from its lowest point this year, reached on Feb. 11, which is the same week that bearish sentiment saw its last big weekly jump. 
The negative sentiment comes on the back of overseas concerns regarding the quickly approaching U.K. referendum on EU membership, as well as a dovish Fed meeting, which have been driving markets lower. 
Before it's here, it's on the Bloomberg Terminal.
LEARN MORE