Bank Indonesia Steps Up Stimulus in Fourth Rate Cut of 2016
by and
Inflation rate dropped to lowest in more than six years in May

Policy makers under pressure to reduce rates as growth slows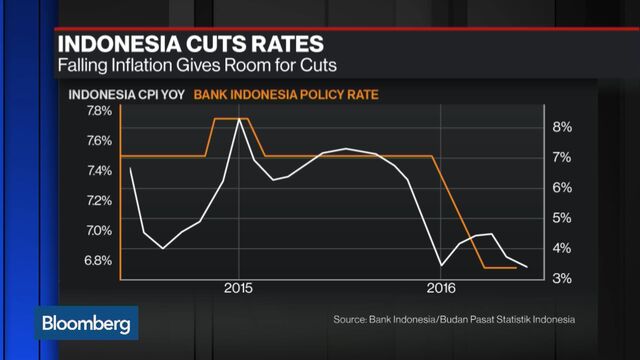 Indonesia's central bank cut its benchmark interest rate for the fourth time this year, indicating its willingness to support economic growth in the face of mounting global risks.
Governor Agus Martowardojo and his board cut the reference rate by 25 basis points to 6.5 percent after local financial markets had closed on Thursday, in line with the forecasts of 11 of the 29 economists surveyed by Bloomberg. The rest had predicted the rate would stay unchanged.

After staying pat for two months, policy makers in Indonesia are finding room to ease rates again following a drop in the inflation rate to the lowest in more than six years in May. With a Brexit vote looming next week and uncertainty clouding the outlook for U.S. interest rates, Bank Indonesia may be positioning itself for any fallout from a increase in risk aversion.
"Growth is slower and inflation is expected to stay subdued," Euben Paracuelles, an economist with Nomura Singapore Ltd., said by phone. The Federal Reserve's indication it will "delay hikes is a big policy consideration," he said. "This gave Bank Indonesia the opportunity to deliver a rate cut."

Bank Indonesia also cut the seven-day reverse repo rate -- which will become the new benchmark interest rate in two months time -- by 25 basis points to 5.25 percent.
Indonesian inflation is forecast to reach the midpoint of the 3 percent to 5 percent target by the end of the year, the central bank said. It forecast the economy probably expanded 4.9 percent to 5 percent in the second quarter, compared with 4.9 percent in the previous three months.
Growth was the main focus in the policy meeting, Juda Agung, executive director of monetary policy at Bank Indonesia, told reporters in Jakarta. The economy's outlook in the second quarter remains under pressure because private investment from non-construction industries is still weak, he said.
The bank also eased macro-prudential limits to help spur lending. It raised the minimum loan-to-funding ratio to 80 percent from 78 percent, loosened rules on property purchases and reduced the minimum deposit required to buy homes.
"Easing might not be done going forward, but essentially speaking, Bank Indonesia's stance is accommodative," Agung said. "Because the easing move today is big, both on the monetary and macro-prudential sides, but essentially, our stance currently remains accommodative."
The Bank of Japan refrained from expanding monetary stimulus earlier on Thursday as the U.K.'s June 23 referendum on whether to leave the European Union threatens to roil markets.
"Economic recovery in Europe is going moderately and shadowed by risk of Brexit, which has the potential to add tension to global financial markets," Bank Indonesia said in a statement.
Before it's here, it's on the Bloomberg Terminal.
LEARN MORE