Australia Added Jobs in May as Part-Time Employment Climbed
by
Jobless rate holds at 5.7%; economy adds 17,900 positions

Report "contains quite a soft underbelly": TD Securities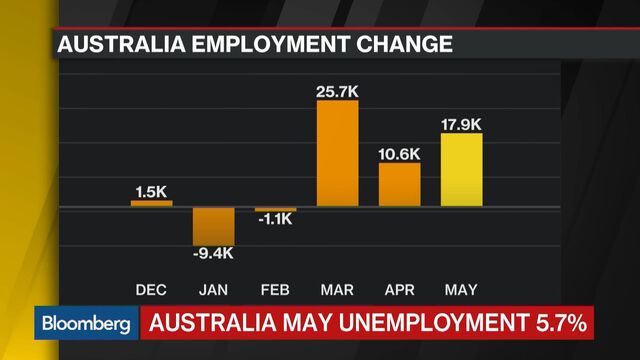 The number of Australians with jobs increased in May, driven by gains in part-time employment.
Employment rose 17,900 from April; economists forecast 15,000 gain
Jobless rate held at 5.7% in line with economists' estimates
Full-time jobs held steady; gain was entirely due to part-time positions

Participation rate, a measure of labor force as a share of population, held at 64.8%; economists predicted 64.9%
The data signal that record-low interest rates are aiding a revival in industries like construction, tourism and education that are helping Australia soak up unemployed miners as a resource boom winds down. Still, wages are growing at recession-era levels, the outlook for business investment remains weak and clouds remain over China, Australia's biggest trading partner.
Thursday's report "contains quite a soft underbelly", said Annette Beacher, head of Asia-Pacific research at TD Securities in Singapore. "The relentless skew towards part-time employment in recent years is a contributing factor as to why wages growth remains depressed, and why households have zero tolerance for higher prices, keeping inflation low."
Currency Swings
While the economy expanded an annual 3.1 percent in the first quarter and unemployment was below its mean over the previous two decades, first-quarter data showed the lowest core inflation reading on record. The Australian dollar is trading near 74 U.S. cents after having dropped to 68 cents in January and risen to 78 cents in the intervening period.
The currency was little changed immediately after the jobs report and traded at 73.97 U.S. cents at 2:17 p.m. in Sydney. It bought 74.23 cents before the data's release.
Accommodative monetary policy settings have assisted with the economy's adjustment from mining, Reserve Bank of Australia Assistant Governor Christopher Kent said in a speech in Brisbane Thursday. The central bank cut rates to a record low 1.75 percent in May before pausing this month.
Before it's here, it's on the Bloomberg Terminal.
LEARN MORE