Spanish Bank's Trip From Most Profitable to Capital Deprived
by and
Banco Popular was slow to deal with worsening property losses

Lender may struggle to dispose of soured real estate assets
Atop a hill in southern Spain sit a cluster of cement apartment blocks surrounded by scruffy gardens. Built during the go-go years of the country's property bubble, the development was eerily still on a recent June morning.
Banco Popular Espanol SA, which took ownership in a foreclosure, is offering flats for as much as 147,000 euros ($165,100). Fatima Smanri, a resident, is skeptical. The gated complex, called Hacienda Casares, lies inland from the sea and almost 100 kilometers (62 miles) from the nearest Spanish airport.
"No one is going to pay that amount to live here," said Smanri, a 43-year-old mother of three who says she rents an apartment in the development for 200 euros a month. "There is absolutely nothing. You need a car just to get a loaf of bread, and at night, coming up the hill, it's completely dark."
Almost a decade after Spain's property crash, bad loans and foreclosed real estate remain a burden on the nation's banks, especially Banco Popular. The Madrid-based lender last month announced a 2.5 billion-euro capital increase to cover property-related losses, surprising investors and raising concern banks elsewhere in southern Europe may follow suit as they grapple with soured loans and record-low interest rates.
Europe's banking shares have tumbled this year, driving the Euro Stoxx Banks Index down 30 percent.
Second Time
Banco Popular's capital call, the second in less than four years, has also cast doubt on the future of Chairman Angel Ron, who has run the lender for more than a decade. Critics blame the 53-year-old for leading a push into real estate before the financial crisis and taking too long to clean up afterward.
"It's surprising that nothing has happened at the management level," given that the shares have fallen some 95 percent from their peak, said Jaume Puig, general director of Barcelona-based GVC Gaesco Gestion, which manages 1.3 billion euros. "It's not understandable."
The stock this week fell to the lowest level in more than two decades.

The bank also warned it may post a full-year loss and suspend the dividend because of possible provisions of as much as 4.7 billion euros in 2016. That marks a turnabout from the 1990s, when Banco Popular was often ranked among the world's most profitable banks by ratings company IBCA, and analysts criticized it for holding too much capital rather than too little.
Capital Demands
"The bank is facing a perfect storm of low interest rates hurting its earnings, a very large real estate portfolio and regulation that's raising demands for capital and coverage," said Manuel Romera, head of the financial sector department at IE Business School in Madrid.
Ron, who became chief executive officer in 2002 and co-chairman two years later, increased real estate lending before the financial crisis, leaving the bank with bad loans and foreclosed properties dotted across the nation when the bubble burst.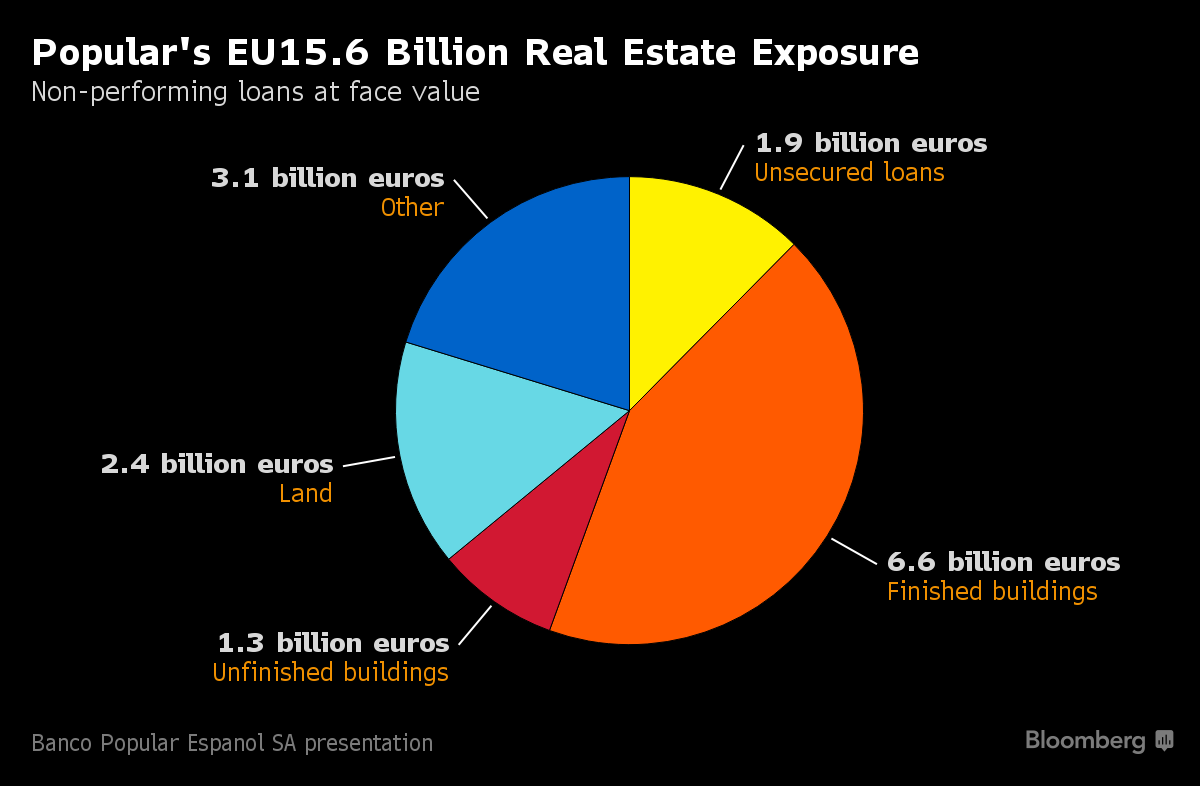 Speaking to reporters in Santander, Spain on Wednesday, Ron said neither investors nor board members have pressed him to step down.
With the capital increase, Banco Popular aims to boost its capacity to cover losses on problem assets to at least 50 percent from 38 percent. That would bring it in line with the Spanish unit of Banco Santander SA, the country's biggest lender.
Sale Plans
Popular has been slower than some peers to shed assets. Spanish banks sold 40 billion euros of real estate and loans since 2014, according to KPMG. CaixaBank SA, Banco de Sabadell SA and Bankia SA were the most active, with disposals amounting to 17 billion euros, the advisory firm said.
Banco Popular is looking to sell 180 units in the Hacienda Casares complex as part of a 4 billion-euro portfolio of foreclosed assets, said two people with knowledge of the plans who asked not to be identified. In all, the bank aims to dispose of 15.6 billion euros of holdings linked to real estate by 2018 as part of an overhaul presented last month.
Too Late
"The sheer size of what they are trying to sell and the fact they have come so late to the party means they won't be able to shift this," said Fernando Rodriguez de Acuna Martinez, general director of R.R. de Acuna & Asociados, a Madrid-based real-estate consulting firm. "All the big investors have already taken their positions and Popular has simply left it too late."
Blackstone Group LP acquired non-performing home loans from CatalunyaCaixa SA for 3.6 billion euros in 2014. The same year, Germany's Commerzbank AG sold 4.4 billion euros of Spanish and Portuguese commercial real-estate assets and non-performing loans to JPMorgan Chase & Co. and Lone Star Funds. Activity has since tapered off as bids failed to meet sellers' expectations.
Banco Popular's capital was deemed sufficient by the European Central Bank in October 2014, when it completed a year-long assessment of the euro-area's banking industry.
"The bank has done what it had to do according to the norm, and it hasn't had the advantages that others have had by receiving public aid," Ron said in an interview last month. The Spanish government had to seek European Union funds to rescue the weakest lenders, including Bankia, in 2012.
'So Alone'
"We were aware Banco Popular had a shortage of provisions, but we weren't expecting the bank to raise capital to cover it," said Jose Ramon Iturriaga, who oversees 200 million euros in Spanish equities at Abante Asesores in Madrid, including shares in the bank. "That's the least favorable solution for shareholders."
Nonetheless, he plans to participate in the rights offer. Shareholders Allianz SE and Banque Federative du Credit Mutuel SA will also subscribe, Popular said in regulatory filings.
More than 500 kilometers from Madrid, Smanri is oblivious to the lender's share price. Her daughter's Barbie beach towel hangs drying in the sun, the only one to be seen in the development. She says the family bought a dog for security.
"At least it will alert us if something happens," she said. "We are so alone here."
Before it's here, it's on the Bloomberg Terminal.
LEARN MORE