Rancor Among U.K. Tories Deepens as Brexit Angst Spreads to Fed
by and
BOE's Carney accused of 'ludicrous scaremongering' on risks

'Leave' lawmakers reject need for austerity if nation quits EU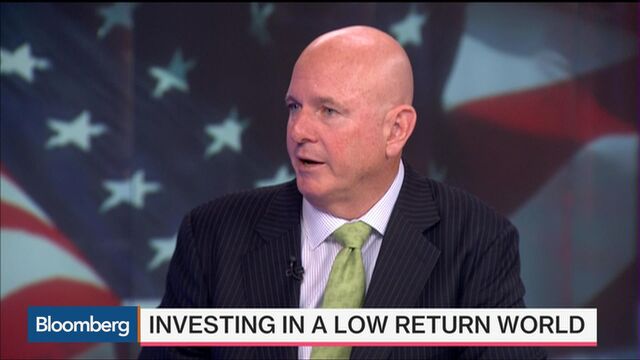 Campaigners for the U.K. to leave the European Union poured scorn on the government's bleak vision of a post-Brexit Britain, as anxiety about next week's knife-edge referendum spread to the Federal Reserve.
Brexit Watch: The pound, the polls, and the probability of Brexit, all in one place
Michael Howard and Iain Duncan Smith, both former leaders of Prime Minister David Cameron's Conservative Party, joined former Chancellors of the Exchequer Norman Lamont and Nigel Lawson in accusing the Bank of England and Treasury of "peddling phoney forecasts and scare stories" during the campaign.
"There has been startling dishonesty in the economic debate, with a woeful failure on the part of the Bank of England, the Treasury, and other official sources to present a fair and balanced analysis," the four men wrote in an article for Thursday's Daily Telegraph newspaper. They accused the institutions of helping Cameron to "frighten the electorate into voting Remain."
With a week to go before the referendum, concern that a "Leave" vote is possible on June 23 factored into the Fed's decision to keep interest rates unchanged on Wednesday. Warnings by the "Remain" campaign, led by Cameron, that the economy would enter a tailspin if there's a Brexit have so far failed to make a mark in opinion polls.
'Deeply Concerning'
Cameron, facing a growing rebellion from his lawmakers against an austerity budget which his chancellor, George Osborne, said would be necessary if Britain votes to leave the EU, hit back at the latest criticism.
"It's deeply concerning that the 'Leave' campaign is criticizing the independent Bank of England," he said in a posting on Twitter. "We should listen to experts when they warn us of the dangers to our economy of leaving the European Union."
Osborne will seek to stem the lawmaker revolt in a keynote speech at the Mansion House in the City of London on Thursday evening. He'll be joined there by Mark Carney, governor of the BOE, which will announce an interest-rate decision at noon London time. While Carney won't discuss Brexit, a statement accompanying the rate decision will provide an overview of the economy and may include commentary on the impact of referendum uncertainty.
Fed Concerns
Carney's U.S. counterpart, Janet Yellen, said Wednesday that concern over a possible Brexit played a part in the Fed's decision to hold back from raising rates. Japan's central bank refrained Thursday from adding stimulus even as it weakened its outlook for inflation. While the Bank of Japan statement made no specific mention of the looming referendum, it cited "geopolitical risks" fueling market volatility.
With a week left before the vote, five of the last six published polls have showed Brexit ahead, a prospect that has unnerved investors. Global equities have lost more than $2 trillion over the past week. From the Fed to EU headquarters, policy makers were preparing for the fallout.
For an explainer on what happens in the first days after Brexit, click here
Yellen said the Brexit vote "could have consequences for economic and financial conditions in global financial markets." The foreign ministers of Germany and France said that the EU's two most influential members are ready to act to stabilize the bloc.
While measures of short-term volatility have surged, other indicators suggest confidence the U.K will stay. The pound has risen 2 percent since the end of February and one-year implied volatility for the currency has declined since the start of the year. Bookmakers say that customers still have more money wagered on "Remain" than "Leave."
"London bookies and the betting industry are still in the Remain camp," Deutsche Bank AG Chairman Paul Achleitner said Wednesday at a dinner in New York. "I hope they're right, because if it works the other way, it's an economic disaster for the U.K. and a political disaster for the EU."
In the U.K., Justice Secretary Michael Gove said he wouldn't support Osborne's post-Brexit austerity plans because they're based on fear-mongering. A letter saying that Osborne's position as chancellor would be "untenable" if he pressed ahead with the budget after a vote to leave was signed by 57 of the Conservative Party's 330 House of Commons lawmakers on Wednesday.
'Fantasy Economics'
Osborne did get some support from the opposition for his budget scenario. He presented it on a platform shared with his Labour Party predecessor, Alistair Darling, and both men warned that a 30-billion-pound ($43 billion) "black hole" would open in Britain's public finances due to reduced trade and investment after leaving the EU.
Claims of benefits from Brexit are "fantasy economics. Worse than that, it's a deceit," said Darling, who served as chancellor during the financial crisis. "I'm more worried now, much more worried, than I was in 2008."
Labour finance spokesman John McDonnell will weigh in on Thursday by saying that U.K. households would be 1,300 pounds better off if the country voted to stay in the EU, according to the text of a speech he's due to give in Manchester.
Some of Labour's Remain campaigners have also distanced themselves from Osborne: party leader Jeremy Corbyn said he wouldn't vote for the mooted austerity budget. At least 66 of the 330 Tory members of parliament have said the same thing, deepening the party's divisions and raising questions about Osborne's future whatever the referendum result.
As support for Brexit gathers momentum, Cameron -- who called the referendum -- dismissed criticism that the pro-EU argument has been too negative and has failed to address immigration, a key issue pushed by Brexiteers.
"You've seen from me a very passionate and strong 'Remain' campaign," he told Channel 4 News in an interview. "Immigration is a challenge but I think everybody understands you don't solve an immigration problem by wrecking your economy."
Before it's here, it's on the Bloomberg Terminal.
LEARN MORE