U.K. Campaigns Lay Out Post-Brexit Visions in Dominance Push
by , , and
U.K. chancellor warns of dire economic consequences of Brexit

Polls show eroding support for staying in EU in final days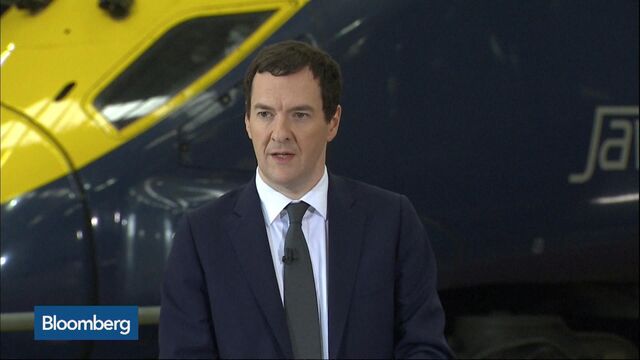 The campaigns for and against keeping the U.K. in the European Union laid out opposing visions of life outside the bloc as dueling ahead of next week's referendum enters its final stretch.
Brexit Watch: The pound, the polls, and the probability of Brexit, all in one place
Chancellor of the Exchequer George Osborne painted an unremittingly bleak picture of the country's finances after a vote to leave, detailing an emergency slate of spending cuts and tax hikes he said would be required. Appearing at a rail depot southeast of London on Wednesday alongside his Labour Party predecessor, Alistair Darling, Osborne said a 30-billion-pound ($43 billion) budget "black hole" would open up due to reduced trade and investment.
Claims of benefits from Brexit are "fantasy economics. Worse than that, it's a deceit," said Darling, who served as chancellor during the financial crisis. "I'm more worried now, much more worried than I was in 2008."
In a sign of the discord within the ruling Conservative party, 57 of it 330 lawmakers declared their opposition to Osborne's proposed emergency budget, writing in a letter that his position would be "untenable" if he tried to implement it. Labour Party Leader Jeremy Corbyn said he wouldn't back a fresh round of fiscal austerity either.
QuickTake Will Britain Leave the EU?
Justice Secretary Michael Gove, one of the most prominent Brexit campaigners, said there's no need for an austerity budget. "What we've heard from the 'Remain' campaign throughout this whole campaign have been dire warnings of the British people taking control of their own destiny," he said in a BBC Television referendum special.
Six Bills
Hours earlier, the increasingly confident "Leave" campaign unveiled its own legislative agenda, pledging laws to restrict free movement of people and reduce the influence of EU judges with the goal of an ultimate departure by 2019. With a "framework for taking back control" comprising six bills, its proposals resemble an alternative government platform, again highlighting the divisions among Prime Minister David Cameron's Conservatives. Most Tories -- and bookmakers -- expect him to step down within a year if "Leave" is victorious.
For an explainer on what happens in the first days after Brexit, click here
With five of the last six published polls showing the "Leave" campaign ahead, the U.K. looks closer than ever to a vote to exit the world's largest economic bloc on June 23. Yet markets are sending conflicting signals about the risk of a so-called Brexit actually happening.
While measures of market volatility over the next month have soared in the past three weeks, other gauges paint a more sanguine view. The pound has risen 2 percent since the end of February, one-year implied volatility for the currency has declined since the start of the year and bookmakers say that customers still have more money placed on "Remain" than "Leave."
European stocks rebounded Wednesday after about $2.5 trillion was wiped off the value of global equities in the past week. The pound was up 0.5 percent at $1.4185 as of 7:20 p.m. in London.
Thames Clash
With eight days of campaigning left, the two sides took to rival flotillas on London's River Thames, where Irish rock star Bob Geldof harangued U.K. Independence Party leader Nigel Farage using a sound system. The vote dominated the half-hour of questions to Cameron in Parliament, with pro-EU lawmakers from both sides of the house offering him the chance to make the case for "Remain" in the last such session before the referendum.
The aim of "Remain" is to convince waverers that departure from the EU would hurt them in the pocket and create years of economic turmoil. The goal of "Leave" is to reassure voters that a Brexit would be swift but controlled, resulting in money saved and far greater control over borders and the economy.
"The Germans wouldn't want to put up trade barriers, because that would mean German car workers would be out of a job," Gove said. "We will have control of an additional 10 billion pounds, which we can spend on our priorities."
'Added Value'
With Brexit a realistic prospect, the U.K.'s European partners are moving to spell out the terms of their future relationship should the country depart. Germany's deputy finance minister signaled that Europe's biggest economy would be unwilling to grant the U.K. any favors in post-Brexit talks. "There has to be a difference between being part of the family or just a neighbor," Jens Spahn told ARD Television. "Otherwise it doesn't make sense to say that there's added value to being a member of the European Union."
German Foreign Minister Frank-Walter Steinmeier said his country and France would work together to buttress European Union stability if the U.K. leaves. "Everybody would have to ensure mutually that the European Union can hold together," he told reporters near Berlin, standing alongside his French counterpart, Jean-Marc Ayrault. "However the U.K. decides, we will jointly take on the responsibility of ensuring that the European Union continues and can function."
The U.K. "will be made to suffer" in Brexit negotiations, Mujtaba Rahman, the head of the Europe practice at consultancy Eurasia Group, said in a note. "The uncertainty created by this process, and the outcome, is likely to depress investment into the U.K.," with financial services particularly vulnerable, he said.
The pro-EU U.K. business secretary, Sajid Javid, warned that attempts by Tata Steel Ltd. to find a buyer for its British operation might founder. Brexit would "be a huge blow to the sales process," he said in a statement.
Before it's here, it's on the Bloomberg Terminal.
LEARN MORE