Treasuries Surge as Fed Pares Projections for Interest-Rate Path
By and
U.S. two-year note yields touch lowest level since February

Futures traders see about a 38% chance of a hike in 2016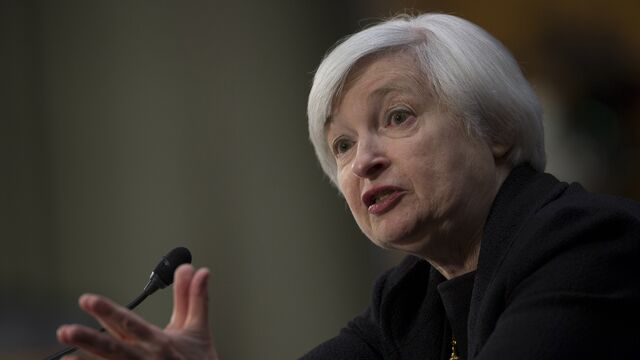 Treasuries gained, with two-year note yields touching the lowest since February, as the Federal Reserve left interest rates unchanged and signaled a more gradual hiking path than previously projected.
Yields fell across maturities after the central bank kept the range for the federal funds rate at 0.25 percent to 0.5 percent. The number of officials who see just one increase in 2016 rose to six from one in March, according to quarterly projections known as the dot plot, even as the median forecast of 17 policy makers remained at two quarter-point hikes this year.

"That's a big shift and an important one -- it helps the overall bond market for the Fed and the investor outlook to be as close as possible," Jim Vogel, head of interest-rate strategy at FTN Financial in Memphis, Tennessee, said about the change in officials' projections. "This should reduce volatility and allow Treasury investors to focus on what's coming ahead rather than devote energy to what the Fed may be doing."
Traders had ruled out a rate increase at this week's gathering after a June 3 Labor Department report showed the slowest pace of jobs growth in almost six years. Futures show about a 38 percent chance of a rate hike by year-end, down from a 49 percent chance seen on Tuesday.
Yields on two-year notes, the coupon maturity most sensitive to Fed policy, tumbled five basis points, or 0.05 percentage point, to 0.67 percent as of 5 p.m. New York time, according to Bloomberg Bond Trader data, touching the lowest level since February.
'Dovish Statement'
"The pace of improvement in the labor market has slowed while growth in economic activity appears to have picked up," the Federal Open Market Committee said in a statement after its gathering, where it left the target range unchanged in the first unanimous decision since January.
"This is a dovish statement, no question," said San Diego-based Anthony Valeri, fixed-income investment strategist at LPL Financial. "The FOMC was cautious and seemed concerned about overseas events, and on labor market improvement and that inflation remains low."
Treasuries have returned 4.6 percent this year as investors sought havens from global volatility and an alternative to more than $8 trillion in negative-yielding sovereign debt worldwide. The U.S. debt rally has been boosted this month as the prospect of a British exit from the European Union has fueled demand for haven investments. The Fed is trying to raise rates even as central banks abroad maintain or boost stimulus to bolster economic growth.
Fed Path
In a press conference, Fed Chair Janet Yellen said next week's U.K. Brexit referendum was a factor in the decision to hold interest rates steady.
The median long-run projection for the federal funds rate fell to 3 percent from 3.3 percent in March. The median projection for the end of 2017 slid to 1.625 percent from 1.875 percent in March, while that for 2018 declined to 2.375 percent from 3 percent last quarter.
"This will not be like traditional rate-hike cycles -- it will not only be gradual, but it's to a much lower destination," Richard Clarida, global strategic adviser at Pacific Investment Management Co., said in an interview on Bloomberg Television. "This recognizes that the potential growth rate in the economy has really slowed, it's slowed globally."
Yellen said the weak May employment report isn't a sign that job-market progress has stalled. "We should not overblow the significance of one data point, especially when other indicators of the labor market are still flashing green," she said.
Benchmark 10-year note yields fell four basis points to 1.57 percent, while 30-year bond yields declined for a seventh day, the longest stretch since 2012.
"If we get some pretty strong economic numbers coupled with a better-than-expected unemployment report for June, I think the 10-year could go a bit higher," said Dan Heckman, fixed-income strategist at U.S. Bank Wealth Management in Kansas City, Missouri. "The coming weeks are going to be very telling on how the market ultimately reacts to today's Fed decision and its messaging."