There Have Almost Never Been This Many Global Stocks in Decline
by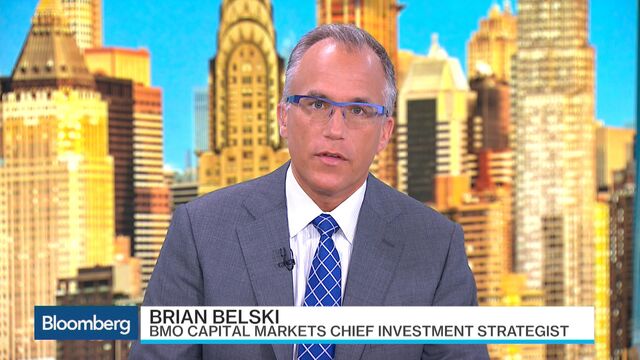 Fear of a possible Brexit is being manifested in equities around the world.
The Bloomberg composite referendum poll tracker shows that in recent days, the share of the electorate who would vote to leave the E.U. has pulled ahead of the percentage who would vote to remain.
Amid the evidence that the "Leave" camp is gaining support, global equities have come under acute pressure, with the MSCI All World Index giving back more than 4 percent over the four sessions through Tuesday.
What's startling about this particular pullback is how the number of stocks that are rising was, at the time of yesterday's close, absolutely dwarfed by the amount in decline, observe analysts at Bespoke Investment Group.
That means Bespoke's International Benchmark Breadth Indicator, which tracks the number of stocks that are advancing or declining in 25 major markets around the world, tumbled on Tuesday to levels rarely seen in the past decade:

"The net reading of our International Benchmark Breadth Indicator over the last four trading days is –79!" the analysts write. "For some perspective, the most negative four-day reading we have recorded for this indicator over the last ten years is –84 with only three other days where the four-day A/D line was more negative than Tuesday's reading."
It's particularly rare to find such an extreme negative tilt in this metric when the S&P 500 is within spitting distance of its 52-week high.
"In this instance, one could argue that U.S. stocks are benefitting from a flight to quality trade at the expense of global equities," writes Bespoke.
The good news for investors who have held onto equities amid this abrupt retreat, according to the analysts, is that the S&P 500 tends to rise after the pool of market advancers becomes this uuncommonly shallow.
"Investors around the world have wanted nothing to do with equities in the last few days, but if history is any guide, they will eventually come running back," according to Bespoke.
Wednesday's price action may be a sign that this return to equities is already underway, with the S&P 500 up 0.2 percent as of 11:38am ET.
Before it's here, it's on the Bloomberg Terminal.
LEARN MORE