The Yield Curve Should Be Flatter, According to BNP Paribas
Shadow Fed fund rates are a better gauge of monetary tightening.
by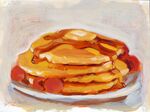 The U.S. yield curve has been doing its best impression of a pancake in recent weeks.
Matt Boesler of Bloomberg News points out that the spread between the yield on 10-year U.S. Treasury notes and two-year notes is now the narrowest since 2007. The flattening yield curve has prompted a wave of commentary from economists, some of whom say that it signals increased odds of a U.S. recession.
Yet there are those who think there's worse to come. Tim High, director of U.S. rates strategy at BNP Paribas SA in New York, reckons the yield curve is not too flat but too steep. He argues that a glance beyond the Federal Reserve's benchmark interest rates (which remain close to zero) — all the way to the Federal Reserve Bank of Atlanta's Wu-Xia Shadow Federal Funds Rate — provides a better view of the extent to which monetary policy has been tightening.
"Those saying that the current flatness of the yield curve signals the possibility of recession are correct, but it should be flatter," he writes. 
The Shadow Fed Funds Rate was designed by the Atlanta Fed with the aim of better gauging monetary conditions below the zero percent bound of benchmark interest rates. Thanks to the Fed's quantitative easing, it dipped to as low as -2.89 percent in June of 2014, but has been rising since October of that year as the central bank began tapering its bond purchases. 
"Financial markets provide clear evidence that Shadow Fed Funds should not be ignored," High writes.
As the Shadow Fed Funds rate rose, to eventually reach a high of zero percent at the last available data release, so too did the U.S. dollar. Meanwhile risk assets such as crude oil and bonds sold by junk-rated companies began to decline. "The fall in crude oil was certainly caused in part by OPEC's refusal to cut supply. However, upon further review, there was a demand shock as well," says High. The "end of easy money puts risky assets in the crosshairs."

Those looking to the Fed as evidence that it is possible to move away from the zero bound of interest rates will find little comfort in High's note.
"Our economists put the odds of recession at 40-50 percent," he says. "This is not an environment to continue tightening."
Before it's here, it's on the Bloomberg Terminal.
LEARN MORE