Sun Valley Showdown Looms for Shari Redstone, Philippe Dauman
by and
Rivals for Viacom power both invited to Allen Co. conference

Secretive VIP retreat in Idaho usually takes place in July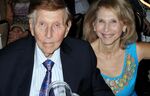 Sparks might fly at this year's annual Allen & Co. conference in Sun Valley, Idaho, where both Viacom Inc. rivals Shari Redstone and Philippe Dauman, chief executive officer of the media conglomerate, are on the guest list.
Shari Redstone, along with her father Viacom Chairman Sumner Redstone, have been locked in a public battle against Dauman over the fate of a company that owns MTV and Nickelodeon. Shari's 93-year-old father isn't well and is being manipulated by his daughter, Dauman has said. Both rivals are on a list of invitees seen by Bloomberg News.
Shari Redstone and Dauman had yet to confirm their attendance at the annual Sun Valley event, which draws top executives from the entertainment, sports, media and technology industries together with some of Hollywood's most powerful celebrities for discussions and, in some cases, dealmaking. In weeks leading up to the summit, the Redstones, Dauman, and other Viacom board members, have been in courtroom battles from Massachusetts to California over control of the media company's future.
For a chart showing the effects of the battle for control on Viacom shares, click here.
Dauman, formerly a Sumner Redstone confidante within the company, has lost the support of the chairman, who is also the controlling shareholder. The CEO is supporting a plan to sell a stake in the company's Paramount Pictures unit, a move Redstone has signaled he opposes. The chairman recently changed Viacom bylaws to prohibit any action involving Paramount without unanimous approval of the board on which he and his daughter sit.
The retreat, usually shrouded in secrecy, takes place in early July. This year's invitees include Apple Inc.'s Tim Cook, Facebook Inc.'s Mark Zuckerberg and Walt Disney Inc.'s Bob Iger, all frequent attendees of the event. Other Disney figures are on the list including former COO Tom Staggs and board member Maria Elena Lagomasino. James Murdoch, CEO of 21st Century Fox is on the list along with his father Rupert and brother Lachlan.
Oprah Winfrey and Jerry Seinfeld are also invited. Seinfeld will not attend, said a spokesman for the comedian. Winfrey's spokesman could not be reached immediately for comment.
Dealmaking Hotbed
The event, traditionally heavy on executives from media and entertainment, has leaned toward technology in recent years and has become recognized as a potential hotbed of dealmaking, such as the 2013 sale of the Washington Post to Amazon.com Inc. founder Jeff Bezos.
There are also representatives from sport that could turn up including Major League Baseball commissioner Robert Manfred, Lawrence Probst, chairman of the United States Olympic Committee and Casey Wasserman, who heads the sports agency Wasserman Media Group, and has advocated for the city of Los Angeles to host the 2024 summer Olympics.
Allen & Co. was founded in the 1920s by brothers Herb and Charles Allen. A call to Allen & Co.'s New York offices was unanswered after usual business hours.
Before it's here, it's on the Bloomberg Terminal.
LEARN MORE